Welcome to Sol Mexico News!
Fears for Mexico's economy grow as the peso nears the 20 to the dollar mark
Mexican peso hits 20-to-the-dollar mark.
A bank in Mexico City displays the dollar exchange rate on Sept. 22. (Yuri Cortez / AFP/Getty Images)
Patrick J. McDonnell and Cecilia Sanchez
The battered Mexican peso has tumbled to historic new lows in recent days, nearing a psychological barrier of 20 pesos to the U.S. dollar and causing anxiety on the streets, at businesses and in the halls of government.
Among other factors, many point to the recent rise in U.S. presidential polls of Donald Trump, the Republican nominee who has vowed to build a wall along the U.S.-Mexico border and has been widely accused here of Mexico-bashing. 
"There is a very clear relation with the [U.S.] electoral process," Mexican President Enrique Peña Nieto told Radio Formula last week, linking Trump's improved standings in the polls to the peso's doldrums.
The Mexican currency plunged to a record low of about 19.90 to the dollar last week and has hovered near 20 to the dollar for days. Exchange houses are already posting signs offering a 20-peso exchange rate, a jarring sight for many here.
Despite official declarations downplaying the devaluation, some analysts are warning that things could get worse and assailing what they call government inaction.
"It appears that the authorities in charge of the politics, economics and finances of the country are flummoxed, paralyzed by the magnitude of the devaluation," wrote columnist Enrique Galvan Ochoa in Mexico's La Jornada newspaper.  "And the effects of the phenomenon could extend to the large companies of the private sector, deeply indebted in dollars."
Peña Nieto, already facing record-low approval ratings, lamented that many Mexicans view a falling peso as "synonymous with a crisis."
But the president told Radio Formula, "This cannot be associated with an economic crisis."
He blamed external factors for the current "volatility," singling out the "enormous uncertainty" of the upcoming U.S. presidential elections and polls showing Trump gaining ground.
Economists cite a number of other causes, including the drop in oil prices since mid-2014, Mexico's generally sluggish growth and predictions of a U.S. interest rate hike.
Whatever the reasons, the plummeting peso has generated considerable concern. As the president noted, many here inevitably link a decline in the currency's value in relation to the dollar as an indicator of economic distress — even an impending economic meltdown.
The peso has dropped almost 14% in value against the dollar this year and nearly 50% since September 2014.
"This is worrying because in Mexico, history and experience tell us that very strong economic crises follow when the peso weakens against the dollar," said Pedro Mendez, 63, a retiree. "Of course the government says not to be concerned. But they rob with open hands!"
It appears that the authorities in charge of the politics, economics and finances of the country are flummoxed. — Enrique Galvan Ochoa, columnist
While inflation officially remains low — beneath the central bank's 3% annual target—many here complain of fast-rising prices of food and other basic items, stretching already strained family budgets.
"Prices have been rising for months," said Rosa Maria Tellez, a nurse and mother of three. "Now you go to the supermarket and pay double, or leave with half the products you could have bought a year ago. This business with the dollar will only make it worse. … Everyone raises their prices and says it's because the dollar increased in value."
Alberta Torres, 56, who sells food from a street stand, says customers are purchasing less these days, complaining that their salaries are not sufficient.
"The economic situation is worse every day. We don't have enough money in our pockets," said Torres. "One has to go in debt and borrow to finish off the month."
But not everyone here is bemoaning the peso's decline.
For the multitudes of Mexicans who depend on remittances — dollars sent home by expatriate Mexican citizens residing in the United States and elsewhere — the devaluation has represented something of a windfall. The stronger dollar means they receive more pesos for every buck sent home.
"In the last few months since the dollar increased in value, we are doing a lot better," said Maria Rosa Beltran, 45, who spoke in front of a Mexico City Western Union outlet, destination of many who regularly collect money wired from the U.S.
Her husband and son are field workers in North Carolina, Beltran explained, and each month they send between $800 and $1,000 to her in Mexico. Some of the extra cash is going into building a new house for her son.
"We are receiving more money in pesos, and I'm very happy," said Beltran. "My son wants to come back to Mexico and marry and have his children here."
Also pleased with the higher payout is Georgina Torres, 44, a domestic worker and mother of three whose husband sends about $600 home each month from a job waiting tables in California.
"Now with the extra money I can buy my kids clothes, sneakers, school uniforms — things that I couldn't purchase for them normally," said Torres, who also spoke outside the Western Union outlet.
"But we also have to save: We don't know if this is going to continue or not. My husband says if Trump wins, things will likely get more difficult, and he may have to come back here."
---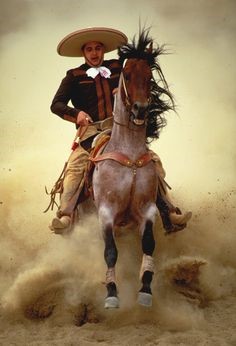 The Mystic of Traditional Mexican Cowboys
Tara A. Spears                                                                                    
September is a month for honoring Mexico's most treasured traditions by celebrating cowboys, tequila, and mariachi as well as political events. Seeing a live performance of a charreria (Mexican rodeo) is a memorable experience, so be sure to bring a camera to record the stunning action. The pro circuit for competitive cowboys starts in late September and runs until May, making it easy to catch a show for seasonal residents and vacationers. Once you attend an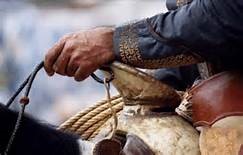 action packed charreria, you'll add the Mexican national sport to your favorite things to do in Mexico.
The specialized gear that a caballero needs goes beyond the spiffy outfits that are worn for fiestas, parades and competing in rodeos. Even the saddle and saddle blankets can be beautiful with the colors and patterns representing a particular region. Leg protection- chaps- are worn on the ranches and appear on the serious cowboys when competing. Similar to the United States Stetson, the Mexican cowboy hat is uniquely shaped to provide maximum protection from the sun as well as aeronautically designed to stay on when galloping at top speeds. Besides the sturdy western style shirt, it is tradition to wear a short, colorful necktie called the Charro Cobato Moño. Intrinsically designed leather belts with silver buckles top tight pants to complete the outfit. There is much pride in the selection of cowboy clothes and gear.
Perhaps the most showy event is the women's escaramuza (skirmish). Included in Mexican rodeo since the 1950's, this breath-taking event adds beauty and elegance to the Charreada. In this event a team of 8-12 women riding sidesaddle and dressed in colorful tradional Adelita dresses perform a variety of precision riding techniques. It takes years of training to master very specific maneuvers. The complexity and skill required make this event a combination of art, sport, and an extension of the Mexican rodeo culture.
True Mexican cowboys and the competitive rodeos called charrerias can best be described as living history; they are an art form drawn from the demands of a working life, as well as preserving the traditions of colonial Mexico. Charreria displays the bravery and quality of both animals and cowboys.