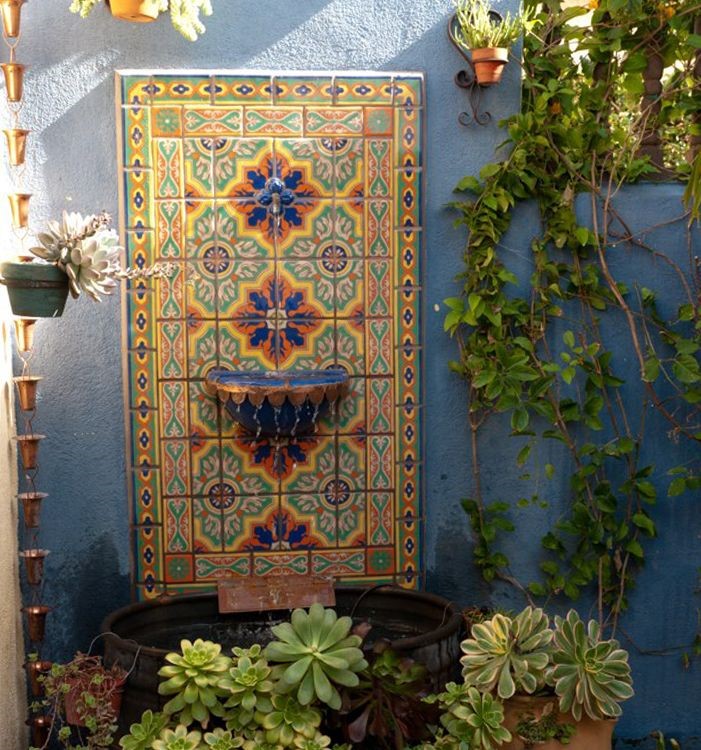 Yard Décor: the Beauty of a Mexican Water Fountain
Tara A. Spears
Part 1 of 2 on Mexican fountains
To any gardening enthusiast, spring is the time to revamp your home garden. If you visit Mexico you have first-hand experience with the many benefits of having a beautiful water fountain near your outdoor relaxation area.
Part of the charm of Mexican hacienda style design is the blending of European influences with new world materials. The vivid colors, mixed textures and soothing sounds of this design feature are an essential element to incorporate into your home landscape.
 For the native cultures of Mexico, wells and fountains were gathering places that symbolized the livelihood of the community. No wonder water is essential in a courtyard garden, the gathering place of the family. Depending on the size of your garden you will want to consider what type of water feature to add: a pool, pond, fountain, cascading waterfall, or even a well replica. Decorative concrete is ideal for these features, but you may enhance them with natural stone or tile. Multi-tiered circular fountains are especially reminiscent of colonial Mexico. If your space is limited, a simple freestanding fountain or wall fountain will work wonderfully. Add extra Mexican flair to a Home Depot purchased fountain by lining the bottom with colorful, hand-painted Talavera tiles.
Whether you incorporate a fountain into your garden pond or install a fully self-contained unit, you have added the element of moving water into an otherwise static landscape. From simple to ornate, fountains please the ear as well as the eye, providing a striking focal point in the yard.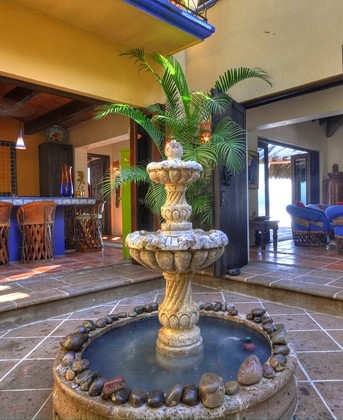 A fountain spray consists of a jet nozzle or ring attached to the outlet pipe of the pump above the pond's water level. Many gardening shops and most hardware stores sell several types of fountain attachments. The simple 'bubbler ring' produces an attractive ornamental spray. Geyser jets, which produce a larger, more dramatic effect, are excellent for aerating the water since they introduce air bubbles to the spray. If you choose a spray-type fountain, place it in a sheltered area so that wind gusts do not disrupt the spray pattern or blow the water outside the fountain receptacle. Nozzles that produce delicate sprays or thin films (such as water-bell jets) need to be installed in a virtually wind-free location.
 Statuary fountains run the gamut of designs from classical Greek figures and wall-mounted gargoyles to modern art forms and whimsical spouting frogs or fish. Statuary fountain ornaments can be bought separately from recycling water pumps so you can get the perfect size for your patio, balcony, or yard. Water fountains can also be bought as complete, self-contained units with precast reservoir bowls and integrated pre-plumbed pump/filter systems- all you need is a grounded source of electricity. Plug it in and enjoy your Pacifico.
No matter what latitude your summer garden sits in, installing a Mexican style water fountain is a perfect landscape element. A Mexican fountain will add bright colors and soothing sounds goes perfect with your margarita on the patio!