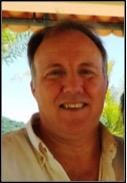 Warming Up the Winter Nights: Scott Webb
Tara A. Spears
Jazz fans, Scott has announced his winter schedule! You can enjoy Scott's music several nights a week: Monday and Thursday at El Rodeo, Guayabitos 6 – 9 p.m.; or Tuesday evenings 7 -10 pm at Las Brisas (Tiki's) in La Penita with the Rhythm Roosters. In addition to these regular gigs, Scott enjoys playing private parties.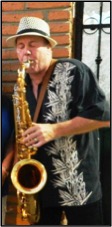 An amazingly versatile musician, Scott is a skilled player with the soprano, alto, tenor, and baritone saxophones as well as three other instruments. In addition to his prodigious instrumental skills, many of his loyal fans swoon for his vocals with his sultry tone and passionate delivery.
Ever since his first music lesson in Kalamazoo, Michigan in elementary school, Scott loved creating sound. "My father believed that we (children) needed to learn an instrument to make us better students, but I just cared about the music," said Scott. "I participated in choir and band all through school but it wasn't until the second year of college that I decided to focus on music as a career."
Towards the end of high school and during college, Scott played with a family band of a buddy. The band performed at private parties and wedding receptions. The satisfaction that Scott got from playing in this dance band led him to leave his engineering studies behind to try to make a living as a performer. Los Angeles, California is the meca of serious sax players and musicians, so young Scott headed south.
"I was fortunate to join an established LA band that had regular gigs," said. Scott. "The band leader became my mentor and taught me a lot about performing and music." Nonetheless, Scott picked up a trade-professional painting- to make sure that he could eat and have his own place. The day job was strictly a means to an end: to enable him to follow his dream being a professional musician. With his mentor's guidance, Scott expanded his instrument repertoire and added singing to his resume. "I realized that I could get more musical work if I had a wider range of instruments and could sing more than back-up vocals." After twelve years in the LA music scene, Scott learned of a music opportunity in Las Vegas and after getting hired, relocated to Sin City.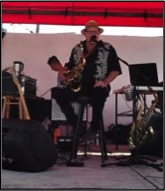 If Scott has to pick a favorite type of sax, he'll reach for the tenor. The tenor saxophone lies in the center of the saxophone family's range like a sweet spot. Countless masters of the saxophone have relied on the tenor's tone as the conduit for their music. Some muscians feel that the tenor sax is particularly effective because its pitches share the middle range of the human voice and some of the qualities of human speech.
Great muscians that have influenced Scott are sax jazz men: John Coultrane, Stan Getz, and David Sanborn. "Really, I love any type of music except rap so I can't name just a few professionals that have songs I admire," said Scott. If he wants to listen to music for enjoyment Scott prefers jazz, pop music from the 1950s and 60s.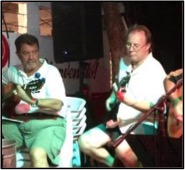 Contemporary jazz has evolved by incorporating hymns, and classical music with American folk music, country, blues and traditional African music. Although the original nineteenth century American musicians developed jazz it has become entwined with many genre of today's music such as blues, rock and dance music. Scott explained that beauty of jazz style music, in which harmony and tempo are generally loose, allowing players to improvise in whatever manner they choose. "A musician's biggest challenge is to keep his music fresh, to retain joy in performing. I give a piece of myself every time I sing and perform, even if I'm covering a song written by someone else."                                                            
Miss hearing Scott perform live? You can enjoy Scott's flair and interpretation of well-known songs on CD: Quiet Nights and Escalator are available at performances or via email. He's spending the summer hard at work creating two new disks- adding vocals- that will come out this fall.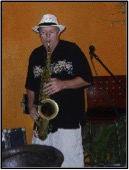 In addition to weekly performances at local restaurants, Scott loves to play private engagements. You can contact him directly [email protected] or telephone 327-274-0081 to reserve or order CDs.
Scott will donate his time to perform at the Women's to Women's Fashion Show on Tuesday, January 24, 2017 as well as a couple of other fundraising events.
Anyone who has achieved a high level of musical success has put major time and energy into creating their own musical style. As a professional musician, Scott Webb, has spent a lifetime honing his musical talents. Jaltemba Bay is fortunate to have Scott as a resident artist while he is at the pinnacle of his musical development.
Scott's passion is music: it is his life, his love, his gift to others. Join the many fans that enjoy experiencing Scott Webb performing live around the Jaltemba Bay- lose yourself in his magic music.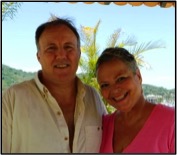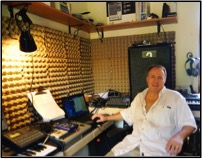 Scott in studio                                                   Scott with wife Linda