Vivid Fuchsias: Little Dancing Ladies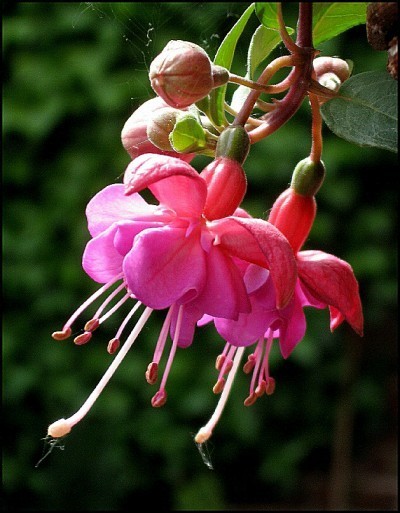 Vivid Fuchsias: Little Dancing Ladies    
Tara A. Spears
One of my favorite flowers is the shade loving tropical Fuchsias. Just this week I was pleasantly shocked to see one at the local plant nursery, Los Palmas. This was the first time that I've seen Fuchsias for sale in the coastal region in all the years I've lived in Mexico, so it is a very happy occasion for me.
The fuchsia flower is quite unusual with regard to its shape and the fact that they are really delicate. These beautiful flowers- nicknamed dancing ladies- are great just about anywhere in your garden. However, you will find fuchsia grows best in full shade in an outside hanging basket.
First, select the correct spot for this lovely plant. Fuchsias have very particular needs regarding light, temperature, and water. Plant or hang your fuchsia at this latitude in a total shade area but with bright light. Use your finger to determine when the soil is not soggy in order to not over water- it will rot the plant's roots. Temperature is a big issue for this plant: it need warm days and cool-ish nights in order to do well. This is why a fuchsia won't live through a coastal summer because the night temperatures are well over 85 degrees (29.5C.) Conversely, fuchsia doesn't tolerate freezing temps although I've seen some cultivars in Burbee catalog that have been breed for a wider range of temperatures.  The desirable temperature range for fuchsias grown in pots is generally from 50 to 75 degrees. (10 C to 24C)
Another exciting development is the range of colors that fuchsias are available. I adore the two tone pinks but there are also varieties of purples, blues, and white. Try to place your dancing ladies in a spot that is sheltered from strong wind, as the delicate flowers come off easily.
About the only problem that affects fuchsia are white fly and amphids. Regular inspection of the plant is the easiest means to ensure that you remove the insects before they take over the plant. It is a must to frequently check the area where the stem and leaf meet because this is a very common place to find insects. Fertilize every two weeks will ensure that this prolific bloomer keeps a continued display up to four months.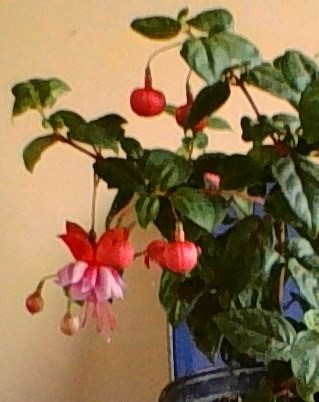 Follow these steps for the season and your fuchsia is sure to be the envy of all the beauties in your garden. Even the hummingbirds will love them.