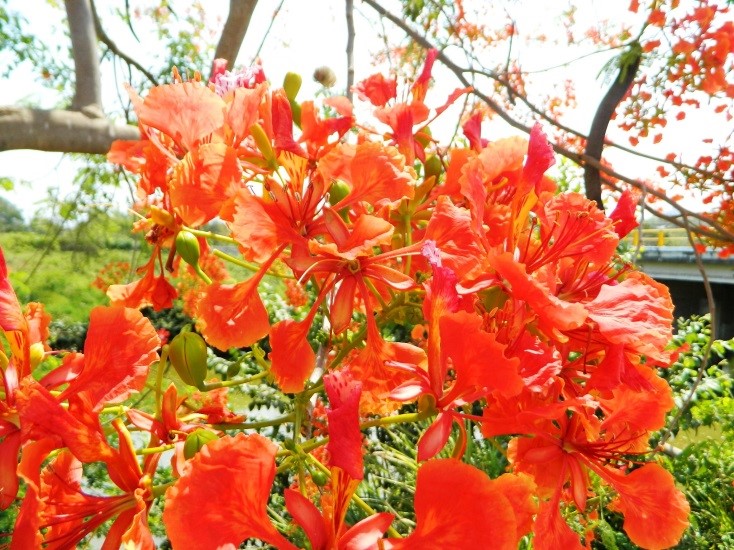 Tropical Summer Perks:  Royal Poinciana and Golden Raintree in Bloom
Tara A. Spears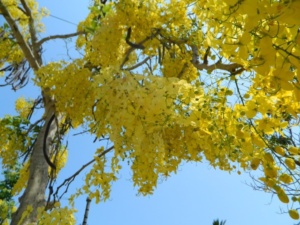 The temperature is rising and the tempo of life pulses with the onset of summer in coastal Mexico. Ocean breezes coat the jungle vegetation with a layer of dust as a farewell to the long dry season; into this tranquil visa burst vivid pops of red-orange and yellow flowers in the treetops. The Royal Poinciana and Golden Raintree flowers dazzle in the intense sunshine adding an upbeat to your daily activities.   
 With its stunning clusters of orchid-like blossoms, the Royal Poinciana tree is widely regarded as one of the most beautiful tropical trees in the world.  The Royal Poinciana tree, commonly known as the flame tree or flamboyant, is a member of the bean family (Leguminosae). As the trees mature, they develop broad umbrella-shaped crowns, and are often planted for their shade-giving properties. The delicate, fern-like leaves are composed of small individual leaflets, which fold up at the onset of dusk. The Poinciana tree produces brown, woody seed pods that reach lengths of up to two foot (60 cm) long that turn reddish-brown to almost black when ripe; it is the shedding from these seed pods that earn the Poinciana tree its 'dirty' reputation. This topical beauty is a good shade tree but not good in a home garden due to its growth characteristics.
The exceptional vivid orange-red flowers of the Royal Poinciana tree herald the beginning of the tropical summer rainy season. These show-stopping cluster flowers stand out in the jungle all along the highways from Puerto Vallarta to Tepic. Along highway 200 from Las Varas to La Penita are several small groves of these trees that are worth photographing. Guayabitos has several beautiful specimens throughout town including the ecological park in the residential section. I'm fortunate to have a wonderful mature tree across from my home. I get to enjoy its beauty from my patio without having to take care of it!
Another area show-stopper bloomer is the Golden Raintree, lluvia de oro. There are lovely examples of this tree north of La Penita at the Los Palmas plant nursery. The subtropical species is called Chinese Raintree or flamegold  (Koelreuteria paniculada.) Its falling blossoms may resemble "golden rain", hence the name. In addition, the fallen blossoms often form an attractive golden carpet under the tree. The bright yellow flowers give way to interesting, brown, papery seed capsules which somewhat resemble Chinese lanterns. This subtropic tree also yields bumper crops of seeds that makes them very high maintenance in a home landscape but fine for planting at the street curb.                                         
Able to grow in full sun locations that are plagued by poor soils or tough growing conditions where other trees fail, Golden Rain trees make excellent choices for shade trees but require lots of clean up from shedding. Golden rain trees are winter (dry season in Jaltemba Bay area) deciduous trees that mature roughly to 25 to 35 tall. They bear leaves composed of many dark green leaflets.
In summer, these trees produce millions of tiny yellow flowers on wispy clusters on branch tips to make the tree look like a powdery, airy golden "rain" or mass of lace. Following the flowers, papery seed capsules form, first pale green, then ripening to shades of deep salmon-pink or tan and brown. These three-sided, lantern-like capsules persist into winter and at times look like flowers themselves, adding color and texture to the tree's canopy when viewed from a distance. One caveat concerning these bright flowering trees: the dried flowers and seed pods are allergy inducing.
Even in the best season of the year, the Royal Poinciana and Golden Raintree are standout plants for sea side living.