Traditional Food and Drink of Mexican Semana Santa  
             Tara A. Spears 
Spring is always a happy time but coastal Mexico takes celebrating the season to another level. The two week semana santa and pascua is a national holiday that provides vacation time for families to hit the beach. The area goes into party mode: exuberant children and adults fill the beaches to bursting, crowds dance along the clogged streets to strolling musicians and celebrate with fireworks, traditional foods, and lots of beer! No one can out do the Mexicans for enjoying life with impromptu fiestas for fun-in-the-sun.
The best way to deal with this two week fiesta is to join in the fun. Relax and people watch:  with every hotel and bungalow overbooked for the two weeks of Easter/Semana Santa, the hordes of out-of-towners will naturally be utilizing the area stores and restaurants, so expect to wait in lines.  Grocery stores have staples fly off the shelves as quickly as items are stocked; tour buses stake out parking places throughout the residential areas; and all other types of shops have brisk souvenir and hat sales making it a good idea to shop early to avoid long lines.
In anticipation of the thirsty crowds, the local beer distributers have been working overtime to have enough beverage ready to go. It is typical for the stores to run out of regular size beer by Easter offering only 'chico' or liter size. Stacks of beer line the entrance to the stores, and the bars set up street carts to offer miceladas (beer cocktails) and pina coladas in giant Styrofoam cups for the tourists. Mexican munchies such as shrimp on a stick, ice cream, fresh fruits, and tacos are sold by strolling vendors all along the beach. To help keep the children occupied, a wide variety of beach toys are available from other vendors in colorful carts. The frosting on the cake of a memorable beach day is the lively sounds of mariachi bands that have parents dancing in the sand.
Here are the top beverages enjoyed on the beach during semana santa:
Authentic Mexican Michelada drink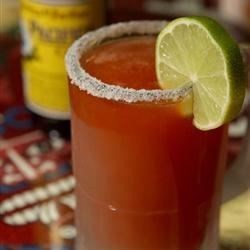 Tajin chili lime salt
3 Small Limes, Juiced
2-3 Dashes Jugo Maggi
2-3 Dashes Salsa Inglesa
2-3 Dashes Valentina Hot Sauce
12oz. of your favorite Mexican Beer
First, moisten the rim of a large beer glass with the Tajin seasoning and salt. Next, place a few cubes of ice in the bottom of the glass, and pour in half the beer. Add the seasonings of lime juice, Juggo Maggi, Salsa Inglesa, and Valentina.  Last, slowly pour in the remaining beer. Stir and enjoy.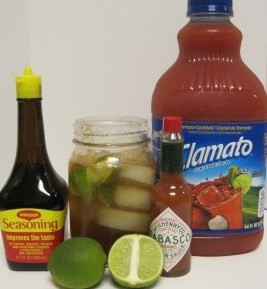 Clamato Michelada Jaltemba Bay Style                 
1/2 Lime, Juiced
3-4 Dashes of Worcestershire Sauce
2 Dashes Tabasco
1 Dash Maggi Sauce
1 Cup Clamato Juice (or alternate tomato juice)
12 Oz. Beer of your choice
Salt for the rim of your glass
First, salt the rim of a tall glass and fill the glass with ice. Next, add the Worcestershire Sauce, Soy Sauce, Tabasco Sauce, and lemon juice. Then pour in the Clamato juice. Top this off with your favorite Mexican beer.
Mexican Bulldog Beer Cocktail: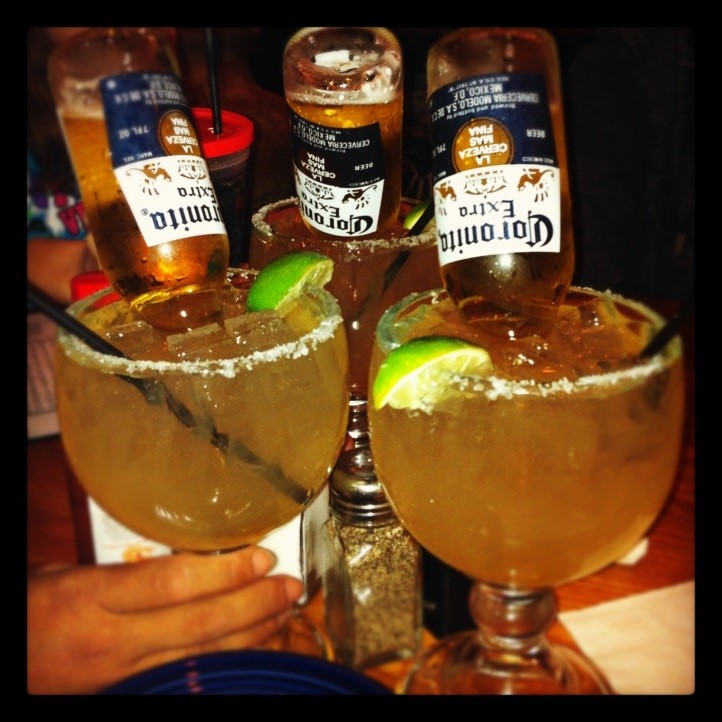 Your favorite frozen Margarita prepared in a large glass, 1-2  Mexican beers
 Start with a very frozen Margarita and turn a bottle or two of Mexican beer upside down and stick the neck buried in the slush. Perfect for chillin' on a hot beach day.
Although each family has its own preferences, there are certain dishes that typically appear for Easter gatherings. . A staple of many Mexican vacation meals is a variety of shrimp: grilled on the barbeque, cerviche on tostados, deep fried, or sautéed in butter. Molotes (a meat/potato turnover) are made with a disk of fresh masa then usually filled with a chorizo and potato filling, fried, then topped with salsa, crema, queso fresco, and garnished with sliced radishes, is a common side dish for the seafood.                      
According to Yvette Marquesz, originally from central Mexico, the following menu is a traditional family meal served on Easter Sunday:  Red Chile Chicken Chilaquiles paired with pitchers of aguas frescas(fruit drinks;) refried beans; chorizo or bisteck.  The meal is finished with Biscochos ( a type of cookie) or palatas (frozen treats) for the children.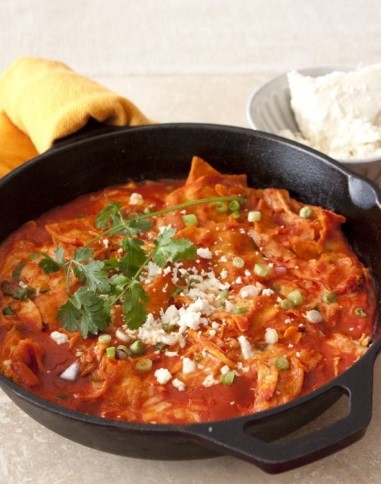 You can conjure up the sights and sounds of Mexican semana santa by mixing up a frosty michelada to go with your chilaquiles and shrimp!  ¡Felices Pascuas de Resurrección!