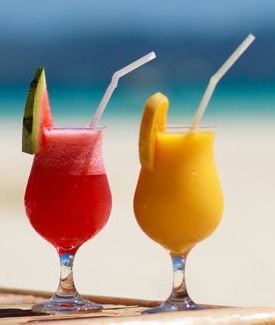 Tasty Seasonal Fruit Cocktails
Tara A. Spears
May brings flowers but also yummy spring fruits. What better way to relax than by getting your vitamin C in a frothy libation! From tropical mangos to plumb strawberries, try one of these concoctions using fresh seasonal fruit to find your new favorite beverage. All these drinks are best served near a beach; or if you are NOTB, each cocktail goes well with stories of your winters in Mexico.
Killer Mango ( recipe courtesy of George Duran)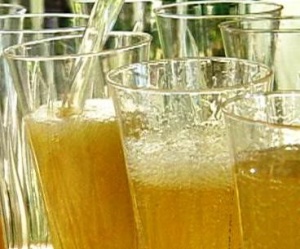 Ingredients:
11/2 cup (12 oz) pureed fresh mango or a can of mango nectar
2 star anise
1 cinnamon stick
2 whole cloves
12 black peppercorns
1/2 teaspoon red pepper flakes
1 bottle Champagne or sparkling wine
Directions: Bring the mango to a boil in a small saucepan over high heat. Reduce the heat to medium and cook for 2 minutes. Turn off the heat and add all of the spices. Let the mixture cool, then strain and refrigerate.
Spoon 2 tablespoons of the spicy mango mixture into a Champagne flute and top with chilled Champagne.
Mango Dragon (Recipe contributed by Sandra Lee, 2012)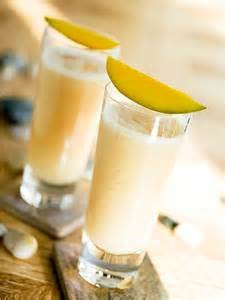 Ingredients:
2/3 cup fresh mango pieces
2 tablespoons sugar
1 tablespoon heavy cream
4 ounces fresh grapefruit juice
2 ounces coconut vodka, such as Ciroc Coconut Vodka
Juice of 1/2 lime
3 dashes orange bitters
1 tube decorating gel
Directions:
Place the mango, sugar, heavy cream, grapefruit juice, vodka and lime juice into a blender and blend until smooth. Immediately pour out into a martini glass. Using the decorating gel, write your message onto the top of the drink.
Mango Tango
1 fl oz Smirnoff Mango
1 fl oz Banana Liqueur
2 fl oz Pineapple Juice
0.25 fl oz Lime Juice
Combine all the ingredients in a shaker with ice. Shake well and strain into an ice filled glass. Garnish with a mango slice and/or lime wheel.
Brazilian Sangria
This take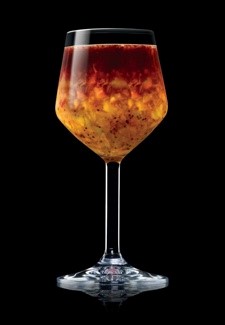 on Sangria is pretty much the holy grail of fresh spring fruits. Don't be fooled: It still boasts a whole lot of booze plus red wine. In this recipe, strawberry, lime, orange, kiwi, and passion fruit is a winning combination, but feel free to use whichever fruit looks ripe and appealing.
Fresh seasonal fruit (recommended: strawberry, lime, orange, kiwi and passion fruit)
.25 oz Lucid Absinthe
1.25 oz Cachaça
.5 oz Spanish brandy
.5 oz Orange liqueur
1 oz Red wine
.
How to make The Brazilian Sangria Cocktail:
In a shaker, thoroughly muddle the fruit with the absinthe, cachaça, brandy and orange liqueur
Pour into a wine glass
Float the red wine on top and stir briefly
One can never go wrong with a Rum drink, especially one that evokes the high seas. Pirates may not have had much fresh fruit on the high seas, but when they came as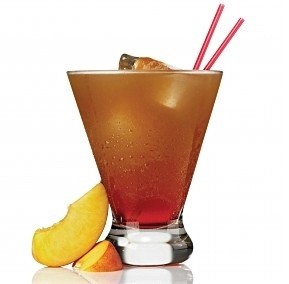 hore to spend their treasure, they would have appreciated this peachy rum drink. The taste of ripe fruit will come through in this simple mixture.
Pirate Passion
2 oz aged reserved Rum
.75 oz Peach puree
1 dash grenadine
Garnish: 1 Peach wedge (optional)
Combine all ingredients in a blender. Shake and pour over ice.
Think of this one as spring break in a glass. Pineapple gives everyone's favorite minty cocktail an infusion of fruity flavor that will taste like a vanilla-spiked trip to the Mexican coast. Ahhhh!
Pineapple Vanilla Mojito (Contributed by Trudy Thomas)
2 oz Club soda
1 fresh pineapple wedge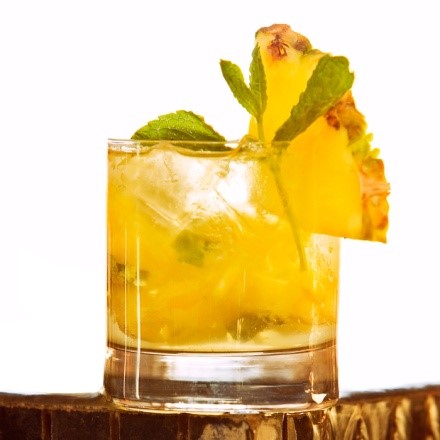 4 fresh mint leaves
.5 oz agave nectar
1 oz White Rum
.25 oz vanilla liqueur
Muddle the pineapple, mint and agave nectar in a tumbler, being careful not to pulverize the mint.
Add the rum, vanilla, and a handful of ice.
Top with club soda and stir.
Garnish with a pineapple wedge and a mint leaf
To round out this spring fling of cocktails, one must include the favorite berry and tequila. Fresh red strawberries taste exponentially better come spring and summer. Hot, sunny weather provides an excuse to muddle your juicy strawberries into this Margarita along with fresh basil for a twist on the classic that is both sweet and savory.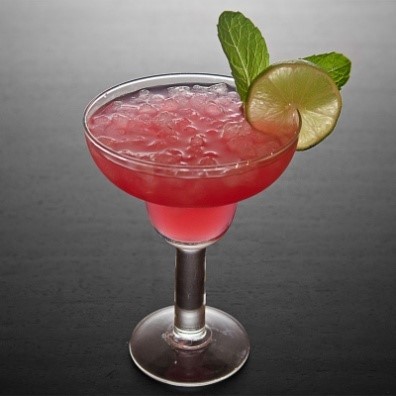 Ingredients in the Strawberry Basil Margarita Cocktail
3 Medium strawberries
3 Basil leaves
.75 oz Lime juice
.75 oz simple syrup
1.5 oz Jose Cuervo Traditional Tequila
.5 oz Cointreau
.25 oz Maraschino liqueur
Directions:
In a shaker, muddle the strawberries, basil, lime juice and simple syrup
Add the remaining ingredients and fill with ice
Shake vigorously and strain into a Margarita glass filled with fresh ice
Garnish with a lime wheel and additional basil leaf
Whether you stick with your familiar fruits and beverages or venture to try a new cocktail, spring fruits are perfect beverage. Paper umbrellas are optional!