Pizza Party Goes to the Dogs: JBAR Fundraiser
© Tara A. Spears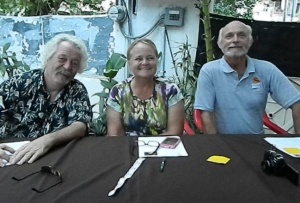 Leave it to the kind-hearted animal lovers to come up with a novel idea for a fundraiser! The music was made for dancing, the day had perfect weather, and the savory aromas of fresh oven baked pizza wafted over the conversations. Adding to the evening's fun was the 50/50 raffle and auctioning off the pizzas.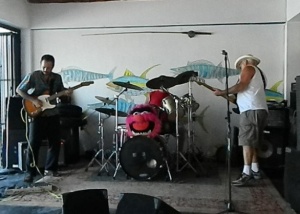 Supporters of the Jaltemba Bay Animal Rescue group enjoyed a pizza party that generated money to continue rescuing homeless and injured dogs and cats. Over 150 people attended the recent event at Latitude 21. There was something for everyone with since the event started at 1 in the afternoon and continued through the night. Three local bands donated their talent and helped the participants burn off all the pizza they consumed by dancing: Hudd & Cindi, Rhythm Roosters, Perez Brothers.
Many thanks to the judges who took the job seriously: Del Moss, Jeanie Mintzmyer, and Johan Nielsen. It was a tough job tasting all those fresh pizzas but they managed with support from the crowd.
The four competing restaurants had flair and great camaraderie:   El Rodeo, Gigio's Italian Pizzeria, Don Porfirio Restaurant & Bar, and Latitude 21 Bar and Restaurant.
All restaurants took home a first in some category:
First place went to Don Porfirio's Restaurant and Bar for BEST Overall and also for the BEST Gourmet Pizza; Gigio's Italian Pizzeria won BEST Italian Pizza; El Rodeo won BEST Mexican Pizza; and Latitude 21 won the coveted BEST Pizza Oven award.
The income raised at this event is used throughout the year to provide medical care for ill or injured rescued animals, provide two spay neuter clinics, feed and shelter homeless animals until a forever home can be found.
Anyone in the Jaltemba Bay area Wednesday, April 22nd through Saturday, April 25th plan on helping out a few hours. The spring clinic is located at Del and Sue Moss' Hacienda in Rincon de Guayabitos. This will be another very busy clinic with six volunteer vets arriving with their vet technicians, plus our Mexican medical team consisting of two vets and one technician.  The clinic will have at least 8 operating tables going so lots of post-op help is needed.
Or if you're leaving prior to that, consider adopting one of the rescued animals that need a home! The following four pics are only a sample of dogs that need love. Contact Lin Chimes, [email protected] for more information.