Paulina Noriega: The Heart behind Mapa Adventours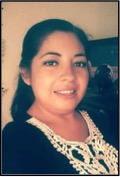 Paulina Noriega: The Heart behind Mapa Adventours      
Tara A. Spears
For those who want the stress taken out of their Mexican vacation or seasonal stay, the charming Paulina Noriega Araiza is at your service. Her Jaltemba Bay travel agency, Mapa Adventours, can locate and reserve housing for your time in Mexico, pick you up from the airport and take you to your doorstep, show you
the type of restaurants and fun activities that suits your interests. Best of all, Paulina is sweet, low key and dedicated to making her fledging business a success. "It's important to me to offer tours that give the visitor an opportunity to experience the wonders and culture of the Mexican Republic at very low cost," said Paulina. "It is my goal to take you and friends for a safe, guided adventure, so that you do not miss of any of the best attractions."
The idea for a local tourist service began about three years ago when Paulina and a couple of friends were sharing comments that they heard from international visitors to Jaltemba Bay: "Can you tell us a good restaurant? What are some interesting Mexican places to check out?" Only Paulina pursued the idea of a service business based in this area. Her dedication and hard work culminates in the professional Mapa Adventours Company with its own website and three areas of specialized services. Although the webpage is still under development, you can see a sample of options and contact information. Go to www.mapaadventours.com
Paulina's vision for her tour company is straightforward, "For me, a vacation service should be one where the client's expectations can be met from the moment we present our menu of options continuously throughout the activities they select. I want my clients to relax and have fun! Got a travel wish? I'll make it happen safely and smoothly. Let's travel together-there's no limit to where we go. "    
Not only does Pauline care about her clients, she is a devoted wife and mother. "I decided to open my own business for the flexibility as it is very difficult to find a job that suits the demands of my life so I accommodate work with attention to my home and family."
Pauline said, "I love my three children, Marisol, Miguel and Daniel. They are my pride and I dedicate the success of this business venture to them. I am excited that my daughter is studying tourism at university in order to help the family business be a success." Her husband of 17 years, Alejandro Medina, is also an enthusiastic participant in the operation of Mapa Adventour. This is a family that exemplifies the typical Mexican life: hard working, responsible, enjoyable to be around.
Pauline works from home, researching and locating the best deals for clients. "In my free time I search for new prospects to ensure a better service at the best cost." As if her days are hectic enough, Pauline volunteers at the La Penita Centro Cultural de Capacitación center (CCC) as well as participating in fundraising events. "I choose to have my business in La peñita de Jaltemba" because I like the way of life and culture for both myself and my children; I realize that there is a need regarding the services that I can offer and that I can operate at a reasonable cost."
What sets Mapa Adventours a head above other tourist service provider is that Paulina strives "to make our clients our friends. It is so rewarding for me to be a part of helping people create the best memories based on personalized experiences." She is so proud of her country that her sincerity comes through- it is not a job for Paulina but a chance to share the beauty of Mexico.
Paulina is constantly reaching out to negotiate rentals throughout Jaltemba Bay area. She is very excited to represent the new, just opened, Luxury Hotel Inn located in La Penita. Gorgeous, high quality finishes with Mexican style make the spacious rooms and public areas so inviting. There is even a penthouse with private Jacuzzi for two and other deluxe touches. Long term rates available. Only a block from the beach and comfortable walking to restaurants and shopping!
Whether you need trustworthy advice and help with accommodations, airport transportation, quality dining, or exciting activities and day trips to discover unique Mexican places, my friend Paulina is the best choice.
You can contact Paulina:   Tel: 327-108-0000 or  E-mail: [email protected]