New Arrivals at Lombok for the 2016 Fashion Show
Tara A. Spears
Originally the brainchild of a group of women golfers, the Fashion Show has grown into a major charity fundraiser, currently celebrating its 13th Anniversary! The Fashion Show's mission is to raise funds to help the women and children of the Jaltemba Bay, Nayarit, area.
Every winter the Women to Women (Mujeres á Mujeres) group puts on the Jaltemba Bay Fashion Show to raise funds for projects in Jaltemba Bay, Mexico. This area includes the communities of Guayabitos, La Peñita, La Colonia and Los Ayala. Over the years the group has supported the Cancer de Mama Clinic for breast cancer survivors, provided numerous scholarships for local students to attend university, helped build local kindergartens, funded improvements at the local Senior's Center, and provided meals for low income secondary school students.
While dedicated to supporting all these causes, the Fashion Show event is also an opportunity for local designers and women's boutiques to showcase their talent. The show also gives volunteers an opportunity to strut their stuff by modeling these original designs; other volunteers get to enjoy this festive event in a variety of capacities. One of the area's top stores, Lombok, provides fresh ensembles for the runway.

This ladies boutique is treasured for its moderately priced women's accessories and clothing. Lombok's Asian Art and Fashion is located on the main street in Guayabitos. If you are looking for unique casual apparel that is perfect for beachside relaxing, visit Lombok Exotic Touch. This store also carries jewelry, aromatherapy, sarongs, hats, bags, and unusual home décor items.
Check the sales racks that change weekly. Although manager Consuelo doesn't speak English, she is happy to get a different size from one of the other locations if you have your heart set on a particular outfit. The shop generally has new arrivals mid-month. Open daily 10 am – 9 pm www.lombok.com.mx 327-274-2987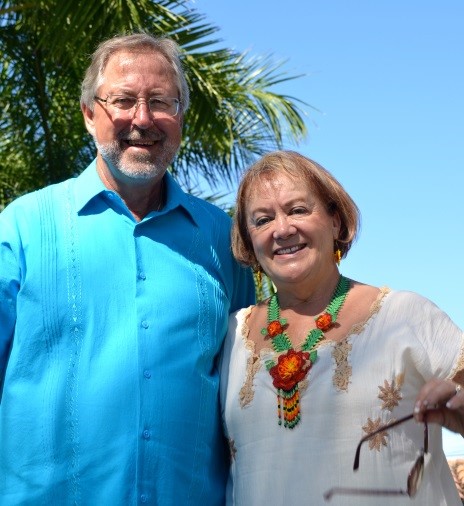 Two of the original volunteers that are on the enthusiastic Executive Committee, Bob and Linda Gibbs, are hard at work to make this year's show spectacular. Linda explains, "Thirteen years ago, it was the thrill of starting something that at the time no one knew would grow into such a huge event. Our first little fashion show was a lot of fun but then we decided to turn it into something that would keep on growing each year in order to help more women and children in this area. It takes many dedicated volunteers to put on this production but the reward of knowing that this event changes the lives of even a few people, makes us both very proud to be a part of it. "
Mona Cavalli, another valued Executive Committee member, sums it all up: "Our guests have a delightful afternoon in Mexico supporting a great cause, the women who volunteer and model have an opportunity to socialize while giving back to the community, and we all get to feel good about ourselves. Of course it's a win-win for the designers as well."
Admittance is $400 pesos per person and tickets must be purchased in advance. They are available each Thursday at the La Penita market, in front of Hindi and Jaime's restaurant; or $40 USD, which may be paid with your credit card online on the Women to Women website.  
Don't miss this girls' day out event. For more information, visit mujeresamujeres.com or send an email to event co-chairs Yvonne: [email protected] or Val: [email protected]