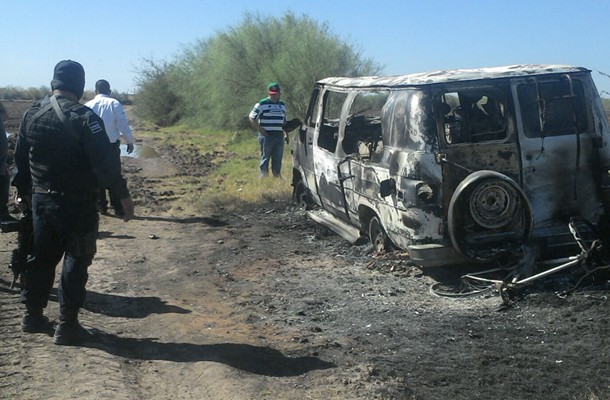 Mexico confirms burnt remains found in campervan as missing Australian surfers
The charred bodies found in a campervan in Mexico are those of two Australian surfers missing since last month, a Mexican official has confirmed.
Three arrested in Mexico over suspected killing of two Australian tourists
Read more
A burnt-out van being used by Adam Coleman and Dean Lucas to travel from Canada to the Mexican city of Guadalajara was found in the north-western state of Sinaloa in late November with two charred corpses inside. Officials ran DNA tests to identify them.
Burnt-out van belonging to Dean Lucas and Adam Coleman
Mexican police in Sinaloa state stand by the burnt-out van belonging to Australians Dean Lucas and Adam Coleman. Photograph: STR/AFP/Getty Images
The Sinaloa state attorney general, Marco Antonio Higuera, confirmed through a spokesman on Monday that all results showed the corpses were of those of the pair from Golden Bay in Western Australia.
Advertisement
The state was still waiting for official paperwork in order to finish the process, the spokesman said.
Sinaloa officials this month arrested three men over the disappearance, but said two suspects remain at large.
Lucas and Coleman, who were on a months-long surfing adventure, were due to reach the western city of Guadalajara on 21 November but did not arrive, according to a message posted on social media site Facebook.
The abandoned van was found near the Pacific coast in Sinaloa, about 200km south of where they were last seen and 716km north of Guadalajara.
It was unclear why the two men had strayed off course, or why they would be targeted.
Sinaloa is notorious in Mexico as the heartland of some of the country's most powerful and dangerous drug cartels.