Mexico cites indications of 3-4 times as many monarch butterflies this season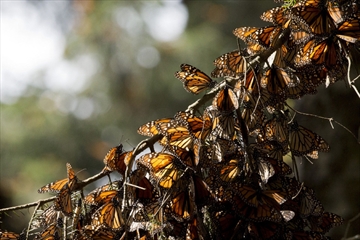 Monarchs
PIEDRA HERRADA, Mexico — The number of monarch butterflies reaching their wintering grounds in central Mexico this year may be three or four times higher than the previous season, authorities said Thursday.
Speaking during a visit to a monarch reserve by U.S. Interior Secretary Sally Jewell, Mexican Environment Secretary Rafael Pacchiano said initial reports suggest the butterfly population is rebounding.
"We estimate that the butterfly population that arrives at the reserve is as much as three and could reach four times the surface area it occupied last season," Pacchiano said.
He did not explain how the government made the calculation, but authorities conduct informal tracking of monarch butterflies as they enter Mexico from the United States.
The population of orange-and-black butterflies making the 3,400-mile (5,500-kilometre) migration from the United States and Canada declined in recent years before recovering slightly in 2014, when the insects covered about 2.79 acres (1.13 hectares) in the mountains west of Mexico City.
The monarchs cluster so closely in trees that their numbers are measured by the area they cover. They once blanketed as much as 44 acres (18 hectares).
Pacchiano said the butterfly colonies could cover three or four hectares (7.8 to 9.9 acres) this year, and officials hope to reach six hectares (14.8 acres) in the reserves by 2020.
The Associated Press