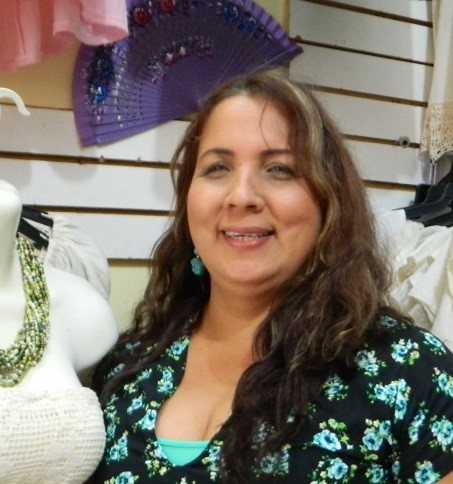 Mexican Traditional Clothes for the Entire Family      
Tara A. Spears  
Are you ready for some fashion? Look no farther than Rope De Manta store in Guayabitos. Designer/owner Lupita Quintero has more than 20 years of experience operating clothing stores; she also designs many of the traditional garments sold in the store. She is showcasing classic design Mexican clothes at the upcoming Fashion Show January 26. This shop carries mens, childrens, and ladies wear so you can outfit the entire family in one stop!
Ever since Lupeta was a child she loved apparel and was always drawing clothes. She worked in various boutiques around the state of Nayarit before gathering the courage to open her own store. "I wanted to carry the traditional Mexican cotton clothes," said Lupeta. "I'm proud of my roots." The exquisite hand embroidery that decorates some of the ladies wear is a tribute to Mexican culture. The line and fabric is perfect for the Mexican hot climate.
Not only does Lupeta's carry beautiful vacation garb but everything you need to create an ensemble is right there: hats, purses, sundresses, beach cover ups and jewelry. Best of all the merchandise comes in a large range of sizes, from extra small to 3X. If you love a garment but would prefer another color or size, Lupeta usually can have it for you in a week.
Treat yourself to a great souvenir outfit to remember your fun time in Jaltemba Bay and attend the Women to Women's Fashion Show. Tickets are almost gone so don't miss out! Purchase online at www.mujeresamujeres.com or at the Thursday La Penita Market from 9am to noon. Yvonne is located next to the Aveneda Restaurant.
Lupeta's Ropa de Manta open Monday thru Thursday 8am til 5:00 pm;
Friday-Saturday-Sunday open from 8:00 am til 10 pm
Manager Karla cell: 322 168 7305
Ave. Sol Nuevo Plaza Gaviotas, Guayabitos
Fashion Show thanks our sponsors: Gold Level
Hidden Paradise Realty/ Jeannie Mintzmyer
La Penita Arte Studio/ Deb Drew
Norm & Caroline Maze
Silver sponsors:
Costco PV
Comex La Penita
Victoria Paval
ReMax Jaltemba Bay Realty-
Rick Helberg & Chantal Camere, brokers
Bronze Sponsors:
Linn & James Chimes
Mich & Evelyn Nodwell
Chris & Val Schrowe
Hotel Guayabitos/Don Juan Pizza
Ferreteria Muro