Meet Mexico's Next Top Model: Christina Mikunda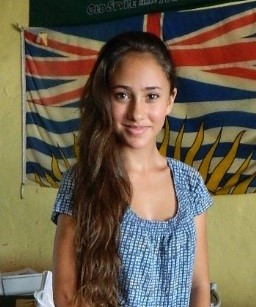 Meet Mexico's Next Top Model: Christina Mikunda
Tara A. Spears
Lights, action, camera! Might sound like a dream to most people, but for Christina Mikunda these words are part of her professional modeling career. Most fourteen year olds might have a vague idea of what they want to do when they grow up but Christina is already following her plan towards achieving her lifetime goal.
"Christina is very independent and mature," said proud mother Mateja Mikunda. "She doesn't need others approval or agreement to make her decisions. Christina thinks for herself."  It is this inner strength that will enable Christina to endure in the very competitive fashion world. She is aware that while thousands try to earn a living as a professional model, only a handful will succeed.
"Most people don't know that modeling is hard work," explained Christina. "It requires concentration and imagination to strike a pose and hold it for the photographer." To prepare herself for modeling, Christina has taken numerous classes: dance, voice, acting and modeling. She also excersizes daily to stay strong and lean for the camera. And, oh does Christina phot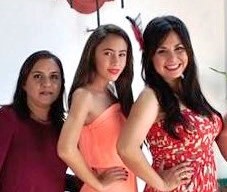 ograph well!
It all began when Christina was thirteen and wanting to take a six month class to see if she liked fashion modeling enough to make it a career. Not only did she love the training and do very well, the school in Tepic, Tandem Agencia de Modelos y Edecanes, hired Christina to be the 'face' for the school's publicity!  Through the exposure gained from these photograhs, Christina has done an ad for a swimsuit company and sev
eral other jobs.
"Right now I am developing my professional portfolio so that when I want to start full time modeling with an agent that I will have good photo credits to show."  Christina participated in a runway model for formal Quinceañera dresses as well as modeling for the 2016 Women to Women Fashion Show. Recently she entered a competition in Composela for public speaking, coming in at second place. Christina has been the president of her secondario (junior high) class and isn't afraid of speaking into a microphone. Christina's poise and confidence in the public eye is amazing for one her age.
When Christina is not working, she hangs out just like other teens. She likes to relax by playing the piano and checking out social media. "I'm fortunate that my family supports my goal of making it in the fashion world. I'm interested in acting and other types of entertainment although I really like being a photographer's model."
As demonstrated in the above professional photos taken by photographer Efrain Jaurequi, Christina is versatile in many fashion styles. "My training gives me the knowledge to apply makeup and hairstyle according to the photographer's vision for a particular photo shoot," said Christina. "After I started taking the classes, my friends would ask me to show them how to apply makeup." 
Christina's advice for everyone is "follow your dream!"  It's exciting to follow her as Christina begins her profession journey. It takes more than just natural beauty to be a success- and Christina has the maturity, focus, and discipline to make it in her field.