Mariachi Music: Showcase of Mexican Culture
Tara A. Spears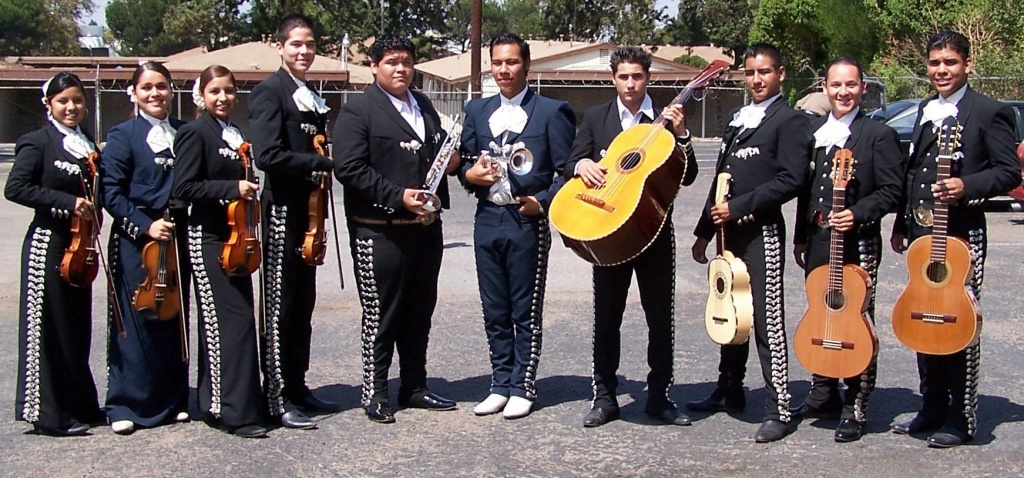 Competing in the International Mariachi Festival, Guadalajara, August 28-Sept 7, 2015
Sex, passion, and beautiful melodies reverberate throughout the city of Guadalajara during the month of September as hundreds of mariachi bands converge to celebrate this unique music style. Citizens and visitors alike can immerse themselves in this music experience. The glory of mariachi is that this art form highlights Mexican nationalism and Mexican culture besides being great entertainment. The musicians in their sexy outfits singing from the heart about heroes and heart-break inspires the audience to get up and dance. The majority of Mexican special occasions- from christenings to birthdays to weddings-include having a mariachi band. It is believed that Mariachi music originated in the state of Jalisco in the 1800s.
The mariachi band usually consists of violins, trumpets, a classical guitar and a "vihuela" (a five string guitar). Musicians wear snazzy traditional silver studded "Charro" suit, including a sombrero. As you can notice in the photos, the mariachi's sombrero is not a field hand's hat but almost a work of art in itself. There is no mistaking the national pride portrayed by the mariachi musicians through their attire and songs. Mariachi lyrics draw on traditional folklore and its songs are usually about love, patriotism, or everyday occurrences such as the cockroach.
The city of Guadalajara is such a cultural mecca: not only is the city the capital of Jalisco, Mexico, but it is considered the birthplace of mariachi, charro (Mexican cowboy), and tequila. Put all three together and you have a super good time at the annual music festival. For those visiting Guadalajara be prepared for Catholic masses when the mariachis perform near churches and cathedrals. To make the month a full showcase of Mexican culture, art exhibits will be held in beautiful plazas and there are several rodeos.
Today's mariachi music has evolved from its early days as a way for farmers to entertain themselves at the end of a hard workday. Over the years, the original ensemble of violin, vihuela (a five-string guitar) and six-sting guitar has added trumpets, basses, drums, and colorful costuming. The modern mariachi bands- even the roving street musicians- are a visual experience besides the haunting lyrics and melodies.
Mariachi music isn't only to be played and sung, but is also paired with dances from each region. Traditional music played in the early days, son and jarabe (the stylized Mexican Hat Dance is a type of jarabe—a medley of dance pieces), are still played by mariachi bands. But now, new musical ideas and styles have been added, making the mariachi band a blend of its historical roots and more modern music. The attractive traditional costumes of the dancers are so romantic and colourful.
Mariachi music is truly a wonderful gift to the world.