Puerto Vallarta, Mexico – Mosquitos: those little creatures that can be a big annoyance and even a danger to your health. With Puerto Vallarta's rainy season, these pests come out in their largest numbers and while we do not have a problem with Zika virus in our region, mosquitos can certainly cause you a sleepless night as they buzz about your room.
Of course, using a DEET repellant is the most preventative measure against getting bitten, but better yet is to limit the number of mosquitos around your Puerto Vallarta property. We have some quick tips to prevent mosquitos in the rainy season.
• Remove standing water from around your home at least once per week. Check places and items that can hold water like tires, buckets, planters, toys, pools, birdbaths, flower pot saucers, and trash containers. These items should be should be emptied and scrubbed, turned over, covered, or, if no longer in use, recycled.
• Be a community organizer and get your neighbors involved in checking and clearing your neighborhood of standing water.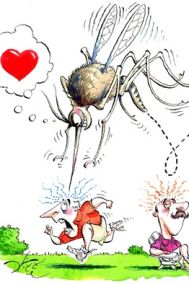 • Watch for city officials who will be paying visits to homes to treat fountains, septic tanks, and pool covers that hold water with safe larvicides, free of charge.
• Be sure to always utilize your screen doors and windows. Though mosquitos are most plentiful in the early morning and early evening, they can find their way into your Puerto Vallarta home at any time of the day.
• If need be, visit Home Depot or other home supply stores for chemical solutions to lessen adult mosquito populations.
Though there are many organic options to assist with mosquito control (citronella, beeswax and soy candles, planting marigolds in your garden and neem oil, to name a few), the best way to combat mosquitos is preventing them from laying larvae in the first place. With an ounce of prevention, you can say a pound of aggravation this summer in Vallarta.
Click HERE for more living in Puerto Vallarta tips from Tropicasa Realty.
---

Since 1997, Wayne Franklin and his team at Tropicasa Realty have been a trusted name in Puerto Vallarta real estate. Tropicasa Realty is the region's representative for "The Leading Agents of the World" and with over 100 years of combined experience in real estate, all agents of the company are affiliated with AMPI. Wayne Franklin or any member of his knowledgeable team can be contacted in-person at their Romantic Zone Office – Pulpito 145-A at Olas Altas. While in PV they can be reached at (322) 222-6505 or by calling 866-978-5539 (Toll-Free) from the U.S.


Click HERE to learn more about Tropicasa Realty, or visit tropicasa.com.