Island Time Music & Fishing Fest, Isla Mujeres, Mexico
Isla Mujeres, Mexico – Every year, Nashville opens its heart to the children of Isla Mujeres in what has become a perfect combination of good times and goodwill – the Island Time Music and Fishing Fest.
For nearly a decade, The Island Time Music and Fishing Fest has given music lovers and fishing enthusiasts the opportunity to interact with talented song writers and performers under the welcoming skies of Mexico's best kept secret – the island community of Isla Mujeres.
From February 15-20, the island paradise of Isla Mujeres will once again welcome an informal delegation of Nashville musicians, singers, and songwriters – along with fans, fun lovers, and fishermen – for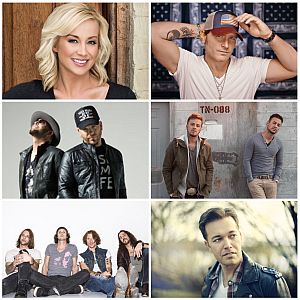 the 2016 Island Time Music and Fishing Fest.
This year's performance lineup includes both promising and pedigreed artists and an appealing mixture of styles, genres, and repertoires.
A partial list of those songwriters and entertainers scheduled to appear includes (in no particular order) Kellie Pickler, Jerrod Niemann, Blackjack Billy, Love & Theft, LOCASH, Lucas Hoge, Kyle Jacobs, American Young, Nick Norman, Natalie Stovall, Lewis Brice, Joal Rush, Hailey Steele, Rob Hatch, and Ryan Rickman.
The event's six day schedule features a series of intimate, live performances in local venues (including a luxurious private residence) along with a fishing tournament that coincides with the winter migration of sailfish to the local waters. For more fishing tournament information, click HERE.
Best of all, proceeds from event tickets, the fishing tournament, an online memorabilia auction, and sales of commemorative merchandise will fund the operations of The Little Yellow Schoolhouse, which provides services to the special needs children of Isla Mujeres at no charge.
The Little Yellow School House began with one room and six students and a really big dream. Because of generous donations and the Island Time Fishing Tournament the school now has six classrooms, full-time teachers and over 50 students. The school has a 70% success rate at getting special needs children back into regular school. Currently, there are still 15 students on the island of Isla Mujeres that cannot attend the school due to a lack of funds. This year they hope to change that with your help!
Bundled tickets for the event range from $199 to $249 USD per person and additional pricing for select events is also available. For more information and to get your tickets, visit IslandTimeMusicFest.com.