HOME AND LIVING
The Home and Living Section of the Sol Mexico News is devoted to food, furniture, decoration and fun in your Mexican Home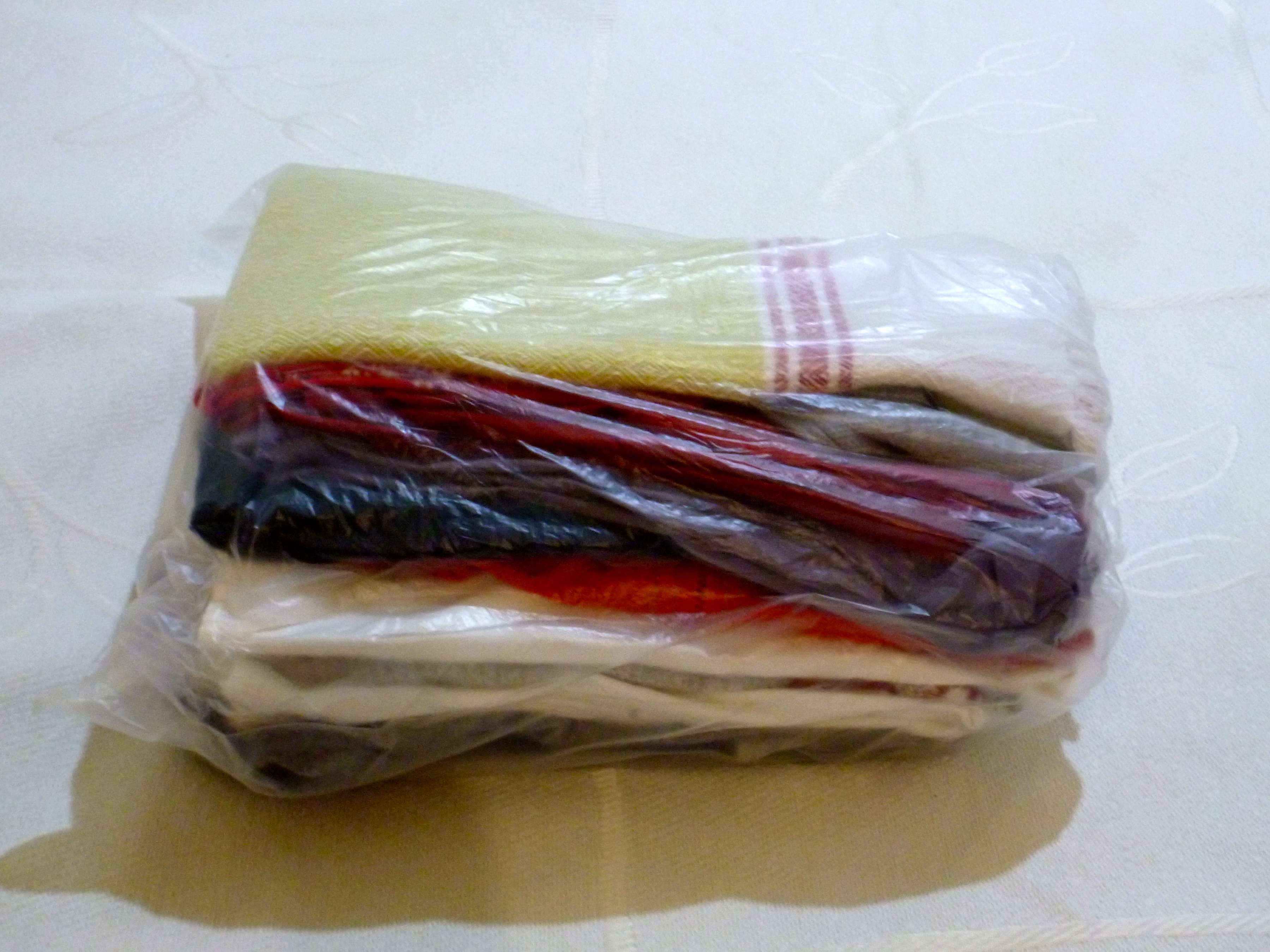 During my 4 months in India I washed my clothes as I traveled; in the shower, in buckets, in sinks, using outdoor faucets, whenever and wherever I could.  There was cheap laundry service readily available and for a while in Chennai I even had a washer in my apartment.  But for the most part, I carried my laundry detergent in a ziplock bag from one ashram to another, from one city to the next, washing my clothes by hand.  I was prepared to do the same when I arrived in Mexico but I noticed a nice lavanderia in my neighborhood and started to think maybe it wasn't such a bad idea to give them a try.  When my hostess Doña Gloria told me how she uses them, too, I gathered my dirty clothes and headed over to see the ladies at "Limpio & Liso."
It felt almost like a mini miracle to me that they could turn this around in a day!  And to top it off, the whites were WHITE and the mud stains on my shirt and towel (I went on a day trip over the weekend where I got splattered with mud all over) were completely gone.  Not only that, an old stain I had on one of my T-shirts (going all the way back to India, I think) totally disappeared as well.  My things came back in perfect condition, all ironed, buttoned, folded neatly, and stacked together inside a clear plastic bag.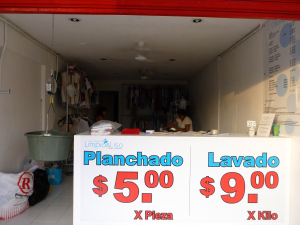 I'm thrilled with what I received but it shows how cheap the labor costs are here, and how little money some make.  My host family has a cleaning girl who is from a small Mayan village outside of Merida.  Because her village is so far away she comes to Merida on Monday and stays for the week before returning back to her village on Friday.  She's at my host family's house for two days during the week, and the other days she goes to Dona Gloria's other daughters' houses to work and sleep over.  When I met her she spoke to me in Spanish to tell me her name, Ilsa, and told me Doña Gloria was out shopping.  I didn't think much of it until Doña Gloria later on told me that Ilsa grew up speaking Mayan and only just recently started to communicate in Spanish.  Ilsa's been working for Doña Gloria's family since she was about 14 or so (she's now 19).  Doña Gloria told me that it's common for Mayans to marry early but with Ilsa having seen a bit more of the world, she's continuing to work.  I didn't ask how much Ilsa gets paid but I can't imagine it's very much.  It reminded me a lot of the boys/young men who used to clean and run errands for my landlord in India.
I went on a bit of a tangent here but my new favorite thing in Mexico is the no-hassle laundry service.  My conversation partner this week, Walther, prefers to do his own laundry at a laundromat.  I looked at him like he had three eyes when he told me how he likes doing two large loads of laundry each week.  He told me self-service laundromats are rare in Mexico and he loves that there is one near his house.  I guess we all want what we don't have but I'm sticking to the lovely ladies at "Limpio & Liso" for my laundry.  They gave me a big smile when I asked if I could take some photos.  What can I say, I think they're awesome!
Pepper Poppers!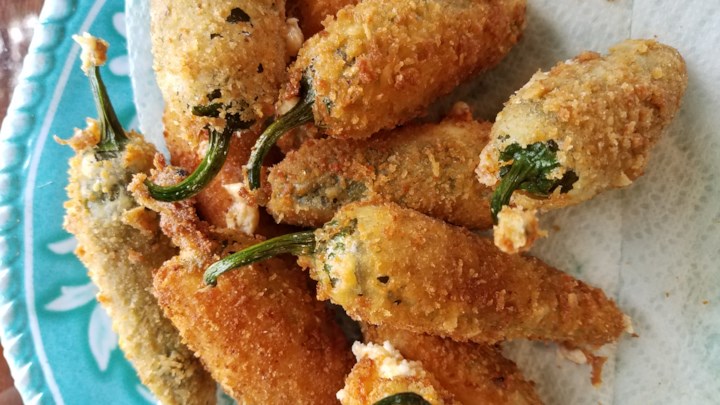 Ingredients
12 ounces cream cheese, softened
1 (8 ounce) package shredded Cheddar cheese
1 tablespoon bacon bits
12 ounces jalapeno peppers, seeded and halved
1 cup milk
1 cup all-purpose flour
1 cup dry bread crumbs
2 quarts oil for frying
Directions
In a medium bowl, mix the cream cheese, Cheddar cheese and bacon bits. Spoon this mixture into the jalapeno pepper halves.
Put the milk and flour into two separate small bowls. Dip the stuffed jalapenos first into the milk then into the flour, making sure they are well coated with each. Allow the coated jalapenos to dry for about 10 minutes.
Dip the jalapenos in milk again and roll them through the breadcrumbs. Allow them to dry, then repeat to ensure the entire surface of the jalapeno is coated.
In a medium skillet, heat the oil to 365 degrees F ( 180 degrees C). Deep fry the coated jalapenos 2 to 3 minutes each, until golden brown. Remove and let drain on a paper towel.
Christmas in Mexico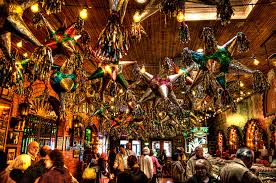 In Mexico, Christmas is celebrated from the December 12th to January 6th.
From December 16th to Christmas Eve, children often perform the 'Posada' processions or Posadas. Posada is Spanish for Inn or Lodging. There are nine Posadas. These celebrate the part of the Christmas story where Joseph and Mary looked for somewhere to stay. For the Posadas, the outside of houses are decorated with evergreens, moss and paper lanterns.
In each Posada, children are given candles and a board, with painted clay figures of Mary riding on a donkey and Joseph, to process round the streets with. They call at the houses of friends and neighbors and sing a song at each home. The song they sing is about Joseph and Mary asking for a room in the house. But the children are told that there is no room in the house and that they must go away. Eventually they are told there is room and are welcomed in! When the children go into the house they say prayers of thanks and then they have a party with food, games and fireworks.
Each night a different house holds the Posada party. At the final Posada, on Christmas Eve, a manger and figures of shepherds are put on to the board. When the Posada house has been found, a baby Jesus is put into the manger and then families go to a midnight Church service. After the Church service there are more fireworks to celebrate the start of Christmas.
One game that is often played at Posada parties is piñata. A piñata is a decorated clay or papier-mâché jar filled with sweets and hung from the ceiling or tree branch. The piñata is often decorated something like a ball with seven peaks around it. The peaks or spikes represent the 'seven deadly sins'. Piñata's can also be in the form of an animal or bird (such as a donkey). To play the game, children are blind-folded and take it in turns to hit the piñata with a stick until it splits open and the sweets pour out. Then the children rush to pick up as many sweets as they can!
As well as the posada's, another type of Christmas play known as Pastorelas (The Shepherds). These tell the story of the shepherds going to find the baby Jesus and are often very funny. The devil tries to stop them by tempting them along the way. But the shepherds always get there in the end, often with the help of the Archangel Michael, who comes and beats the devil!
Nativity scenes, known as the 'nacimiento', are very popular in Mexico. They are often very large, with the figures being life size! Sometimes a whole room in a house is used for the nacimiento, although this is less common now. The figures are often made of clay and are traditionally passed down through families. As well as the normal figures of the Mary, Joseph, Jesus, the Shepherds and Three Kings, there are often lots of other figures of different people, including women making tortillas, people selling food and different animals and birds, like flamingos! The figures can be bought from markets in cities all over Mexico. The baby Jesus is normally added to the scene during the evening of Christmas Eve. The Three Kings are added at Epiphany.
Christmas Trees are becoming more popular in Mexico, but the main/most important decoration is still the nacimiento.
Christmas Eve is known as 'Noche Buena' and is a family day. People often take part in the final Posada and then in the evening have the main Christmas meal. At midnight, many people go to a Midnight Mass service, known as the 'Misa de Gallo' (which means Mass of the Rooster as people are up early like Roosters!). There are lots of fireworks to celebrate Christmas Day.
Poinsettia flowers are known as 'nochebuena' (Christmas Eve) flowers in Mexico.
People in Mexico also celebrate 'los santos inocentes' or 'Day of the Innocent Saints' on December 28th and it's very like April Fools Day in the UK and USA. 28th December is when people remember the babies that were killed on the orders of King Herod when he was trying to kill the baby Jesus.
In some states in Mexico children expect Santa Claus to come on December 24th. In the south of Mexico children expect presents on January 6th at Epiphany, which is known as 'el Dia de los Reyes'.
On el Dia de los Reyes the presents are left by the Three Kings (or Magi). If you've had a visit from Santa on Christmas Eve, you might also get some candy on el Dia de los Reyes!
It's traditional to eat a special cake called 'Rosca de Reyes' (Three Kings Cake) on Epiphany. A figure of Baby Jesus is hidden inside the cake. Whoever has the baby Jesus in their piece of cake is the 'Godparent' of Jesus for that year.
Another important day, is La Candelaria 'the Candles' or Virgen de la Candelaria 'Virgin of Lights or Candles' (this is also known as Candlemas in other countries around the world) on the 2nd February and it marks the end of the Mexican Christmas celebrations. Lots of Mexicans have a party for Candelaria.
In Mexico, presents might also be brought by 'El Niñito Dios' (baby Jesus) & Santo Clós (Santa Claus)
In Mexico most people speak Spanish (Español), so Happy/Merry Christmas is 'Feliz Navidad'. In the Nahuatl (spoken in some parts of central Mexico) it's 'Cualli netlācatilizpan' and in the Yucatec Maya language (spoken in some parts of the Yucatán Peninsula) it's 'Ki'imak "navidad"'. Happy/Merry Christmas in lots more languages.
The largest ever Angel Ornament was made in Mexico. It was made in January 2001 by Sergio Rodriguez in the town of Nuevo León. The angel was 18′ 3″" high and had wing span of 11′ 9″! Perhaps the most amazing thing about the angel was that it was completely made out of old beer bottles, 2946 of them
Margarita Balls
"Right up there with Rum Balls."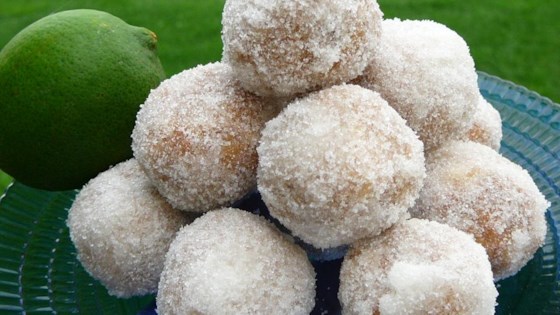 Ingredients
1 (12 ounce) package vanilla wafers

1/2 pound ground almonds

4 ounces white chocolate
1/4 cup tequila

1/4 cup orange marmalade

2 tablespoons light corn syrup
Directions
Mix 1 box (12 oz) vanilla wafers, crushed into crumbs, with 1/2 lb ground blanched almonds.

Melt four 1 oz squares white chocolate according to package directions.

In blender, process tequila, orange marmalade, and light corn syrup until smooth. Stir, along with melted chocolate, into crumb mixture.

Shape into 1-inch balls and coat with sugar. Store in refrigerator.

Meet the Turkey's Glamorous Mexican Cousin
Meet the Turkey's Glamorous Mexican Cousin National Geographic
The Thanksgiving dinner favorite is much more sophisticated than you thought.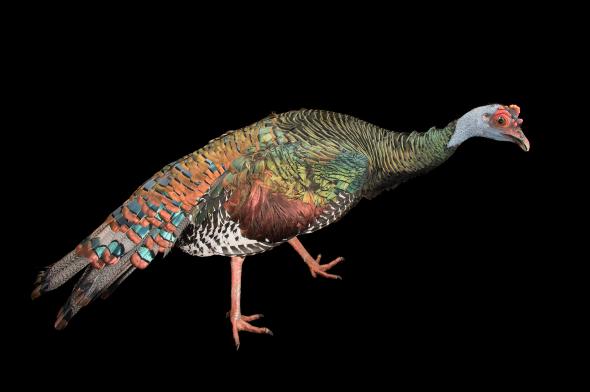 It's nearly Thanksgiving and time to talk turkey, but these birds are more than just a holiday tradition.
From elaborate courtship displays to flying, here are some surprising facts you may not have known about the dinnertime favorite.
There's More Than One Turkey
The wild turkey has six subspecies and a glamorous cousin from Central America. What better time than Thanksgiving to meet the whole family?
Male ocellated turkeys, which range throughout Mexico, Guatemala, and Belize, sports copper and emerald feathers and a blue face. Female feathers are more subdued.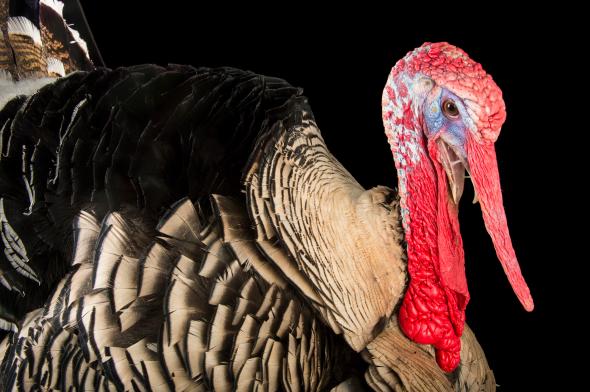 "What a gorgeous bird," says Bob Mulvihill of the National Aviary in Pittsburgh. The term ocellated comes from the eyespot pattern on its tail, explains Mulvihill—ocella means "small eyes" in Latin. Males will fan these fancy feathers to impress females.
There are six subspecies of wild turkey, including the Eastern wild turkey, which is the most ubiquitous, ranging from the U.S. Midwest to the East Coast up to southern Quebec.
The Eastern wild turkey has the biggest range of any turkey species, covering much of North
The subspecies Meleagris gallopavo gallopavo is the wild ancestor of the domesticated turkey that ends up on our dinner plates. Native Mexicans domesticated the animal, and the Spanish exported the bird to Europe in the 1500s, McGowan says. The Pilgrims then brought turkeys back to the New World in 1620.
Other subspecies include the smaller, darker Osceola turkey, which only lives in Florida; Merriam's wild turkey, known for its unique white-tipped feathers; and the Rio Grande turkey, which sports copper, red, and green, among other colors.
The Osceola turkey is a subspecies only found in Florida.
Wild turkeys "are the quintessential flocking bird," Mulvihill says, "living in flocks much of the year." Even in mating season, males gather in a group called a lek.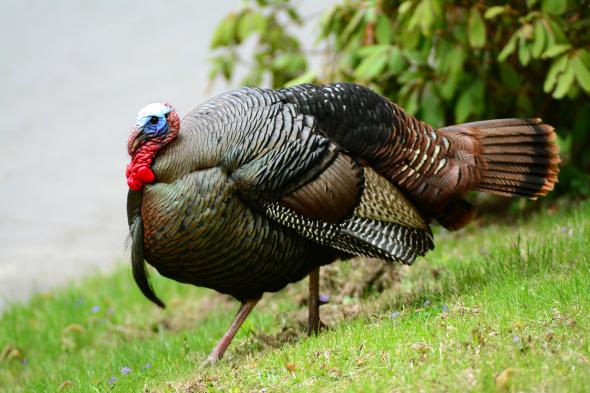 A lek is "one-stop shopping for females," Mulvihill says—the males stay put in one place, strutting their stuff, while females come by and survey the goods.
What is Thanksgiving? What does the Thanksgiving holiday celebrate? Learn about the first encounter between the Pilgrims and Native Americans in 1621, their surprising relationship, and the reason a United States president created a holiday in honor of it.
During such courtship displays, males try to make themselves more showy by changing the color of their face from pink to blue, enlarging their wattle, and turning their forehead white, says Kevin McGowan, a behavioral ecologist at the Cornell University Lab of Ornithology.
Not only that, but "they fluff their wingtips down to the ground, and that makes a really deep sound, almost too deep to hear," McGowan says.
Such infrasound travels a long way, and it's quite possible that males may be trying to get the attention of females from afar, he adds.
Turkeys Can Fly
If you think a turkeys can't fly, you're partially right: Domestic turkeys "get so big they can't fly, whereas in the wild if you can't fly, you're dead," McGowan says.
Like peacocks, turkey are "burst flyers—they just explode off the ground and go a short distance and they quit."
The wild turkey occurs in every U.S. state except Alaska.
Seeing a nearly 20-pound bird take flight was a surprise, even for an expert. "The first time I saw one," McGowan says, "I thought 'What? It's like a dragon! Oh, it's a turkey!'
Turkeys, Faux Real
Some birds aren't turkeys, but are nicknamed as such for their broad tail feathers, like Florida's anhinga, or water turkey, because of its broad, dark brown tail, Mulvihill says.
A doppelganger called the Australian brush turkey is not a turkey at all, but has the trademark red head and black tail feathers.
North America's turkey vultures are also bald like turkeys.
They're Bouncing Back
Hunting and habitat loss nearly wiped out wild turkey populations in the United States, but the species has rebounded due to reintroduction programs.
Though turkeys are notorious for being aggressive and pesky, especially in suburban neighborhoods, they're actually very skittish in areas where they're hunted.
Can you blame them? It's a wise turkey that hides out until Black Friday.

The Mexicans dying for a fizzy drink
By Katy Watson and Sarah Treanor BBC News, Mexico
Mexicans consume more carbonated drinks per person than any other nation, and the country has one of the world's highest rates of childhood obesity. Two years ago the government introduced a tax on sugary drinks – but is it working?
Silvia Segura lives in a poor neighbourhood on the outskirts of Merida, in Mexico's Yucatan state. She invites us into her modest house. Three armchairs face a television and a ghetto-blaster turned up high with Mexican music blaring out.
On the walls are hooks with hammocks hanging from them. These are where the family sleeps – they are more comfortable than beds in the region's baking climate.
In the living room, however, a double bed stands in the middle of the floor. Silvia says this was her mother's bed after she became too ill to climb into a hammock. She died recently because of complications caused by type 2 diabetes – but until the end, Silvia says, her appetite for sugary drinks never left her.
"All my family drinks Coca-Cola," says Silvia. "My mother, may she rest in peace, was a true cocacolera – she couldn't live without it, she'd drink it three times a day if she could. She said it kept her alive."
When her mother went into hospital, "we'd smuggle the coke in and give her some sips," Silvia says.
    About 10% of kids are being fed soda from zero to six months of age
    Dr Salvador Villalpando, Childhood obesity specialist
Mexicans are the thirstiest consumers of sugary drinks in the world. Each gets through an estimated 163 litres (36 imperial gallons) on average per person every year – 40% more than an average American (who drinks 118 litres, or 26 gallons).
And this, says the government and the health campaigners, is a serious problem.
All too often, the headlines coming from Mexico focus on the country's bloody drugs war – which has claimed over 100,000 lives in the past decade. Type 2 diabetes, on the other hand, kills 70,000 per year.
So acute is the problem that two years ago, in January 2014, Mexico introduced a national tax on sugary drinks and junk food – a 10% tax on every litre of sugar-sweetened drinks and an 8% tax on high-calorie food.
The effect of these on children is a particular concern – according to Mexico's Health Ministry, the country leads the world in childhood obesity.
"About 10% of kids are being fed soda from zero to six months of age," says Dr Salvador Villalpando, a childhood obesity specialist at the Federico Gomez children's hospital in Mexico City.
"By the time they reach two it's about 80%."
The problem is aggravated by the fact that children are often short, their development sometimes hindered both physically and mentally by a diet high in junk food and low in nutrients.
Although the country's appetite for sugary drinks has sometimes been put down to the lack of clean water in some parts of the country, Villalpando disagrees.
"It's cultural," he says.
"Mexican mums like having chubby kids in their homes as it shows they're feeding them properly. And they are so used to feeding them sodas, they don't stop even when there is clean water."
The children coming to his clinic often show early signs of diabetes – patches of dark skin on their necks and regular spikes in their blood sugar levels. Children with pre-diabetes cannot process sugar in the same way as healthy children and after consuming sugary food or drink their blood sugar rises dramatically.
Young children who are accompanied by their mothers have less chance of getting better than teenagers who come alone, Villalpando says. That's because parents continue overfeeding the young children, while often the older ones are determined to lose weight and improve their health.
According to research by Mexico's National Institute of Public Health, together with the University of North Carolina, in the first year the tax reduced consumption of sugary drinks by an average of 6% over the 12 months, reaching 12% by the month of December.
In the poorest households, monthly purchases of sweet drinks fell by a full 17%.
The drinks industry disputes these figures, however.
"We did an analysis with the National Institute of Statistics and Geography and what we have is that consumption and sales have been affected by 1% or 2%," says Jorge Terrazas of Mexico's bottled drinks industry body, Anprac.
He adds that fizzy drinks only account for 5.6% of Mexico's average calorie consumption so can only be a small part of the solution to obesity and diabetes.
No data has yet been published that would indicate whether the tax is having an effect on Mexicans' health. But Dr Miguel Messmacher, under-secretary of revenues at Mexico's Ministry of Finance, says he is in no doubt that it is working.
"We've raised close to 20bn pesos (£760m)," he says. "It's a fairly significant amount. I think the results we have so far have led to the changes in behaviour we wanted."
So what do the big US brands make of Mexico's approach?
Hank Cardello of the Obesity Solutions Initiative, a research group in Washington DC, cracks open a can of diet ginger ale and tells us.
"You have to look at ways of expanding the tool kit of solutions," he says.
"The typical regulatory tool kit is tax, ban, limit, constrain – those kinds of anti-growth words, if you would. They're anathema to what the companies have to do.
"We should ban the word 'should'. It's like a parent talking to a child. 'You should eat better, you should do this.'
"No. When broccoli tastes like a cheeseburger, I'll eat more broccoli. You don't lecture to people to get them to change."
But in Berkeley, a short drive from San Francisco, Josh Daniels sees things very differently.
He was the co-chair of the "Yes on Measure D" campaign, which resulted in an overwhelming vote in favour of introducing a soda tax in November 2014 – the first in the US.
The tax is one cent per ounce, which amounts to about 10% of the value of a bottle of soda, just as in Mexico. It raises about $150,000 per month for health-focused community initiatives.
"I came to understand the damage that sugary drinks have been doing," says Josh. "By showing that Mexico did it and was successful, it gave support to our position that this was a viable policy."
Now the city is leading the way for other US cities, he says, 31 of which have already tried and failed to introduce a tax, but may try again.
The idea of a sugar tax has also been floated in the UK.
In October a report by Public Health England recommended a tax of between 10% and 20% on high-sugar products as one measure needed to achieve a "meaningful" reduction in sugar consumption. Food Standards Scotland also proposed a sugar tax two weeks ago.
"I don't really want to put new taxes on to anything but we do have to recognise that we face potentially in Britain something of an obesity crisis," Prime Minister David Cameron said last month, promising to announced details of a "fully worked-up programme" to tackle obesity later in the year.
In Mexico, the tax may be working but sometimes it can be hard to see how.
Across the country, corner shops are painted red and white, reminding Mexicans where their loyalties lie.
Posters tempt school children with cheap offers of fizzy drinks and sugary snacks on their way to school. It makes you wonder whether Mexico's thirst for pop can ever be truly quenched.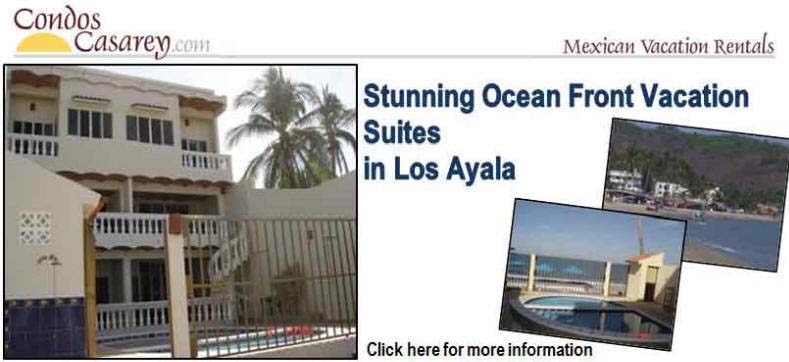 Mexico Tinwork or Hojalata
by Dorothy Bell
Man has historically shaped metal into both useful and ornamental objects. Mexico Tinwork or Hojalata dates back to the 16th Century colonial period and many credit San Miguel de Allende in Guanajuato as the birthplace of this art form.
Considered Mexican colonial hacienda and folk art, the material was easy to work with and economical. Often called the poor man's silver, tin was pounded, stamped and punched to form many elaborately decorated and functional works of art replicating many of the techniques and designs of its more expensive brother.

Tin was often the material used to make religious nichos –  a shadow box – for saints, religious objects, alters and shrines to ancestors. These are commonly used during the Day of Dead celebrations or at Christmas and other religious holidays.
Oxidized Nichos 
Tin historically has been used to craft mirror frames, crosses, candelabras, ornaments, jewelry, boxes, figures, and bowls and is so today.  Often talavera tiles, stone, glass and mirror and other materials are used in conjunction with the tin work.
Tin mirror frame incorporating Our Lady of
Guadalupe images in printed glass tile
Two main cities are known for the craft; San Miguel de Allende and Oaxaca. San Miguel is known for its oxidization techniques whereas Oaxaca specializes in natural and lacquered looks.
See More Articles About Mexico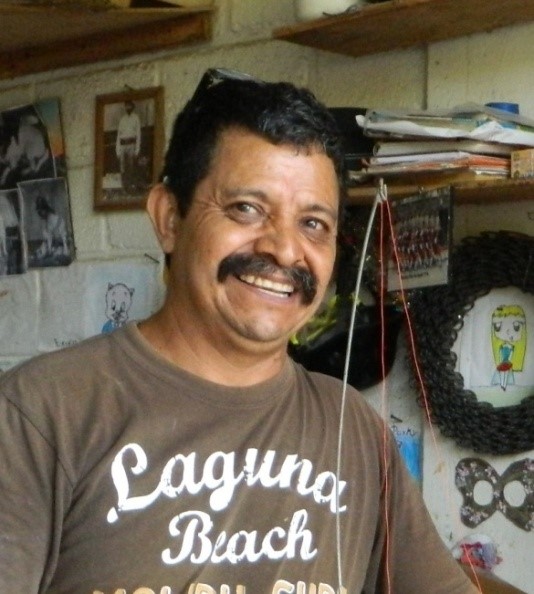 Martin's Property Management assist you!Telephone: 327 274 2723    cell: 322 146 1666     Email: 

[email protected]

     English Spoken  Martin's Upholstery Shop, Calle Bahia de Jaltemba #16a, Los Ayalas   Open every day but Sunday
Coconut Shrimp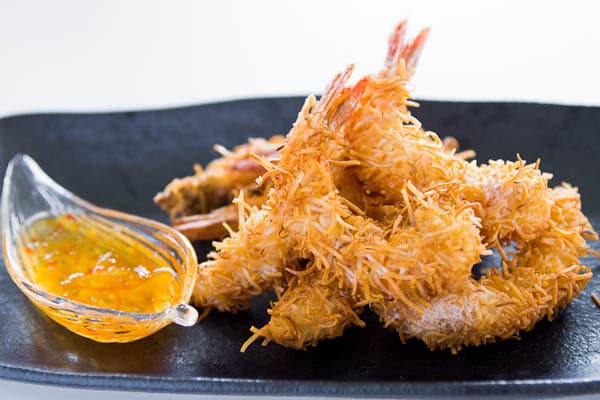 "These crispy shrimp are rolled in a coconut beer batter before frying. For dipping sauce, I use orange marmalade, mustard and horseradish mixed to taste."
Ingredients
1 egg

1/2 cup all-purpose flour

2/3 cup beer

1 1/2 teaspoons baking powder
1/4 cup all-purpose flour

2 cups flaked coconut

24 shrimp

3 cups oil for frying
Directions
In medium bowl, combine egg, 1/2 cup flour, beer and baking powder. Place 1/4 cup flour and coconut in two separate bowls.

Hold shrimp by tail, and dredge in flour, shaking off excess flour. Dip in egg/beer batter; allow excess to drip off. Roll shrimp in coconut, and place on a baking sheet lined with wax paper. Refrigerate for 30 minutes. Meanwhile, heat oil to 350 degrees F (175 degrees C) in a deep-fryer.

Fry shrimp in batches: cook, turning once, for 2 to 3 minutes, or until golden brown. Using tongs, remove shrimp to paper towels to drain. Serve warm with your favorite dipping sauce.
Amazon Prime is now available in Mexico
The expansion marks the first time the service is available in Latin America.
It's been about two years since Amazon launched in Mexico via Amazon.com.mx, but starting Tuesday online shoppers in the country can finally sign up for unlimited free shipping and streaming video through Amazon Prime. Prime subscriptions have been steadily on the rise in recent years, especially outside of the US, and as TechCrunch notes today the Prime launch in Mexico is Amazon's first in Latin America.
Prime subscribers in Mexico will also have access to free same-day delivery in and around Mexico City as well as free one-day shipping in Guadalajara, Puebla and Querétaro. Subscribers can also order items from the United States through Amazon EE.UU with free standard (6-9 day) shipping. Meanwhile, Prime Video will be going up against Netflix's 1.2 million subscribers in Mexico, but will include all of Amazon's original programming plus "hundreds of popular movies and TV shows," according to the company.
Pricing is also slightly more affordable than Prime membership in the states: the first year of service will cost just 449 pesos — or about $23 — before doubling in the second year to the regular price of 899 pesos ($46)

Mexican fare gives you what your body wants
As the days get shorter and chillier I find my tastes change. Instead of meal-size salads and chilled soups I crave hot, hearty dishes.
I like heavily flavored food and recipes that have plenty of spice. Mexican dishes always seem to hit the spot once the leaves start falling and snow begins appearing on mountain ridges.
Whether eaten at home or at a restaurant, Latin cuisine can be healthy, especially if you keep an eye out for nutritious additions.
Let us start with the carbohydrates. As I tell my clients, carbohydrates are not bad, and they are often good. Best in their whole food form, they fuel the brain, power muscles and keep body energy levels balanced. Mexican foods that contain measurable carbs include tortillas, beans, rice and corn. Corn tortillas are often just whole corn, corn oil and salt. Simple and nutritious.
Restaurant flour tortillas, used for burritos or fajitas, are usually made from processed white flour and are low in fiber. If you choose flour tortillas at the grocery store your options widen. There are whole-wheat and low-carb varieties with plenty of fiber and probably more B vitamins and magnesium.
When you are at a restaurant choose corn tortillas. At home opt for corn, whole-wheat or low-carb options. Even a nice, crunchy tostada shell contains only 75 calories and very little fat. And it makes an excellent start to a colorful plant-based tostada salad.
Any meal based on beans will be good for your body. Everyone should have half a cup of beans each day, according to Dr. Walter Willett, nutritionist at the Harvard School of Public Health. Rich in potassium, magnesium and B vitamins, these legumes are some of the most nutritious foods available. Quercitin and saponins found in black beans are antioxidants that are particularly heart healthy and protect cells from cancerous growths. Incredible but true, beans also contain a measurable amount of selenium, a mineral that prevents inflammation, helps the body detoxify cancer-causing compounds and plays a role in liver enzyme function.
Athletes trying to teach their bodies to store carbohydrate energy will find that beans are the best. That's because the slower-absorbing carbs stick longer in the cells as glycogen and are available up to 48 hours after eating. Simpler sugars like sports gels or drinks last less than 24 hours.
All dried beans are good, but kidney, black and pinto, in that order, are the best. Cooking them from scratch is the best choice because they will generally have less unhealthy fat, like lard and less salt. Canned beans can be soaked and rinsed to eliminate most of the salt.
With 8 grams of soluble fiber per half-cup serving, beans truly perform medical magic. The proof is in their dramatic ability to lower LDL cholesterol, stabilize blood sugar and optimally fortify an athlete for ultra endurance. In fact, I have recently been recommending a bean meal rather than pasta for the night-before-a-race dinner because it tends to clean out the gut and enable the runners, bicyclists or skiers to race lighter and faster. Energy levels in the athletes also seem to improve, so they can go longer distances before hitting the wall.
Although beans can provide plenty of protein for a main dish, there are alternative options for a satisfying Latin-flavored meal. Cold-water fish, seafood and skinless chicken are the best. Beef is less heart-healthy; fajitas are the optimal red meat choice. Pork is not white meat, as advertised. It's really a red meat with similar levels of saturated fat to beef.
My favorite restaurant entree is grilled fish tacos, whether cod, mahi-mahi, swordfish or salmon. All those cold-water fish provide a measurable level of omega-3 fats to soothe joints, heal the brain and decrease risk for cardiovascular disease. Better yet, choose fish tostadas, which offer more vegetables in the form of leafy greens to further "healthify" the meal.
The best part about Mexican food is the salsa. It's always nutritious, whether based on tomatoes, mangoes, tomatillos or pineapple, and the addition of the produce dramatically ups the antioxidant factor in a spicy dish.
With a rainbow of colors, each offering a compendium of nutritional value, get creative when making salsa at home. Order extra at a restaurant, including the fresh salsa, or pico de gallo.
For home dishes try the black bean salsa recipe above. Although this is my basic recipe, I encourage you to try other varieties of tomatoes, peppers, beans, onions or herbs. Roasted summer or winter squash or cubed sweet potatoes are other possible variations. The sky is the limit for creativity in this yummy condiment. It can even be used as the main ingredient for burritos, tacos or tostadas. Simply add it to the tortilla and top with leafy greens and condiments.
Clean-eating black bean salsa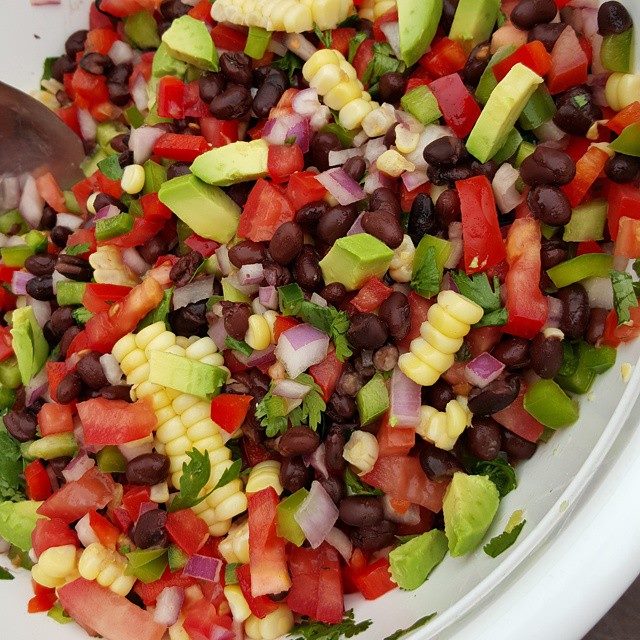 Ingredients:
2 15-ounce cans black beans, rinsed and drained

2 ears of fresh corn on the cob, steamed 4 minutes, cooled and kernels cut off the cob

5 Roma tomatoes, seeded and diced

1 large Haas avocado, peeled and diced

3 bell peppers, diced (one each of green, red and yellow)

1 medium red onion, diced

1 small jalapeno pepper, seeded and diced (or more to taste)

1/2 cup fresh chopped cilantro

4 tablespoons fresh lime juice

1 tablespoon apple cider vinegar

Hot sauce to taste

Sea salt and fresh black pepper to taste
Instructions:
Gently combine all ingredients in a bowl.

Cover and chill overnight for best flavor.

Season to taste with more lime juice, hot sauce or cilantro.

Serve on your favorite Mexican dish.
The Secret Behind The World's Best Vegan Mexican Food
mindbodygreen.com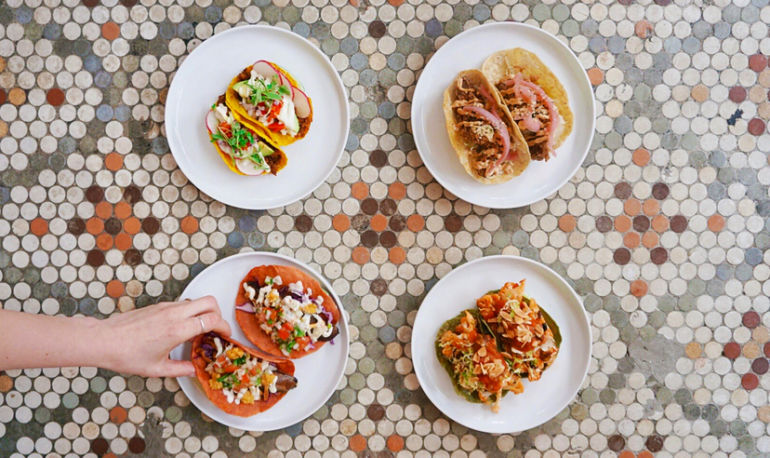 I'm sitting at a tiny table in a tiny restaurant tucked above a subway station at the amorphous über-trendy intersection of Chinatown and the Lower East Side. I'm surrounded by what seems to be off-duty models with perfectly messy hair, and all I can think about is the urge to undo the top button of my jeans. That, and how I can somehow eat another bite of enchilada.
Ja Ja Ja (pronounced "ha ha ha," a noise several people in front of me made when informed of the hour-plus Wednesday-night wait time) combines two concepts so disparate as to almost be an oxymoron: vegan Mexican food. Mexican is arguably the hardest cuisine to vegan-ify, often leaning heavily on cheeses, meats, and animal fats for the hearty, recognizable flavors. While old-school vegan staples like fake meats and mayonnaises pop up on the Ja Ja Ja menu, they've also (far more interestingly) set about superfood-ifying Mexican staples.
Black beans are fermented, for a complex, tangy flavor. Squash is battered with hemp and flaxseeds and smothered in chipotle almond butter to become a facsimile of a "fish" taco with a crispy crust that, to my trained tongue, came damn close to passing as fried. Tortillas are spiked with turmeric; the Tinga Tostada is served on a chlorophyll-corn base.
The food and atmosphere are festive, not austere or rooted in deprivation; with matcha cocktails that still feature a generous serving of alcohol, there's an understanding that wellness is about celebration, tasting good, and enjoying life.
I chatted a bit with the founders to get the secrets behind their runaway success.
Vegan Mexican food is quite ambitious—where'd the idea come from?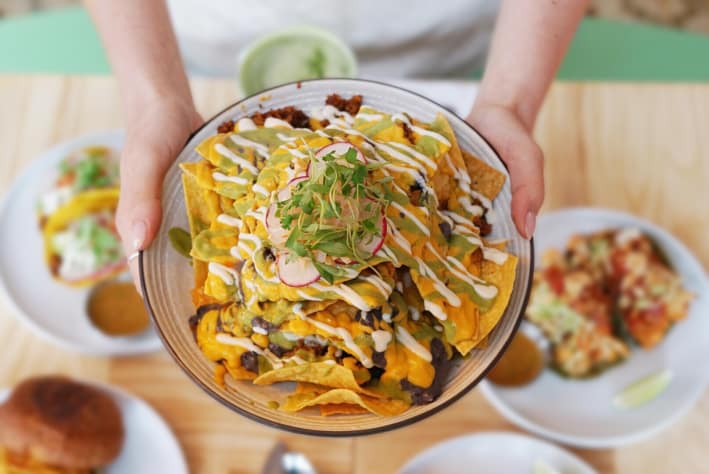 It made sense for us to veganize Mexican food because historically, the ancient Mexican diet is plant- and grain-driven. We saw a void with no one diving in, a space for us to explore our menu in a fun, playful, healthy, and interactive way—something that vegans and non-vegans alike could enjoy.
Are you vegan?
One of our partners is a vegetarian, and two of our main childhood friends/investors are completely plant-based eaters. Whenever we would go out with them, there were lots of obstacles in ordering for the table, so we wanted to be a part of the solution by finding common ground for a shared experience (regardless of dietary choices).
What's the most popular dish at Ja Ja Ja?
Our Chayote "Fish" Taco—chayote being a common South American squash popular in Mexican cooking—has definitely been an item people can't get enough of, and we find our nachos pretty hard to beat.
What were the hardest Mexican foods to veganize? What solutions did you come up with?
The core of our menu is Mexican street food, most of which traditionally incorporates meat in various ways. That was our biggest challenge—making great-tasting tacos with familiar textures. In order to solve that problem we searched for vegetables that could not only hold up well with various cooking methods but enhance the flavors of every dish while remaining true to the root of the dish.
What are a few things people can do at home to make their cooking a little bit healthier?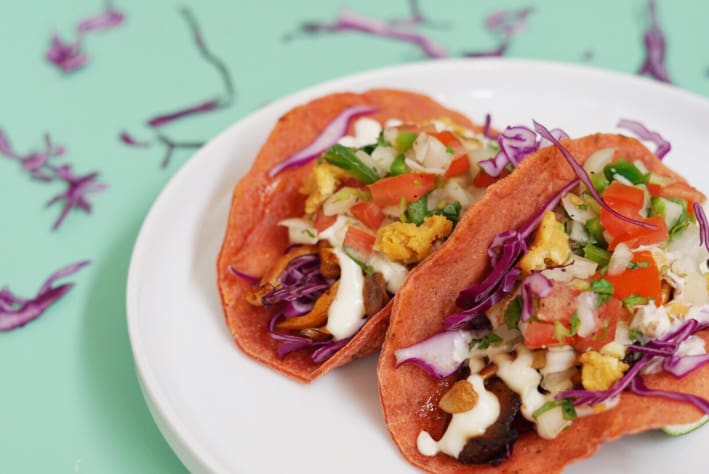 Having fun exploring your kitchen is really the key. Cook with more vegetables in creative ways! You can alleviate the need for oil by using high-water-content vegetables, such as onions and mushrooms, and cut back on sugars by replacing them with natural fruits. We also try to use less-processed starches, and to incorporate charcoal into a few items to help the digestive system.