Holiday Season in Action as Fashion Show Sponsorship Drive Begins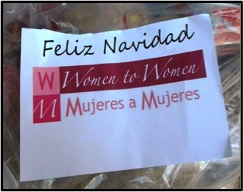 Holiday Season in Action as Fashion Show Sponsorship Drive Begins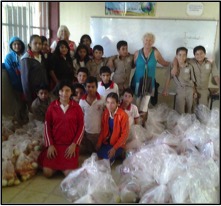 The Women to Women Fashion Show Committee is in full gear preparing for the January 24, 2017 gala event. But while the party is amazing, the community service that results from the fun time is even more important. Mona Cavelli and Gayle Marshall, on behalf of the Fashion Show team, delivered 40 food baskets to needy families in time for Christmas!                  
"The families were selected by the school counselor Orlanzo," explained Gayle. "The counselor said that the middle school has 80 plus children in the Free Breakfast Program. The highest need families were selected to receive the food hamper."
Mona added, "We (Fashion Show) included rice beans, flour, sugar, condensed milk, oats, corn, chocolate, tuna, oil, peanut butter, soap, toothpaste and many dried goods. The food package also had a big bag of produce, oranges, potatoes, carrots, and onions. Besides the practical and food items each hamper also included a Barbie doll, ball, and some Christmas candy for the holiday."
It is important to note that all the gift items were purchased locally, most from Alvarado's market on the La Penita main avenida because Senor Alvarado gave us a discount. The children and parents were at the school to help unload and they were very happy to receive the hampers!
The gift food hampers at Christmas is but one of the Fashion Show initiatives. All year long the proceeds from the annual fundraiser go to enrich the quality of life in Jaltemba Bay: we support 22 women studying at university as well as contributing to the Cancer de Mama's February clinic. By purchasing a Fashion Show event ticket or silent auction item you can be a part of this high impact group!
The Women to Women Fashion Show committee is excited about our loyal supporters who have again pledged sponsorships:
  Deborah Drew                                             Jeanie Mintzmeyer                    
You can contact co-chairs Annette Williamson, [email protected] or Eleanor Dickinson, [email protected] to become a 2017 sponsor. Check out the Fashion Show website, www.mujeresamureres.com to donate, purchase event tickets, or to learn about our initiatives.
Join us Tuesday 24 January for a fantastic day of food, fashion, and fun!