Guayafest Brings Volkswagen Lovers to Riviera Nayarit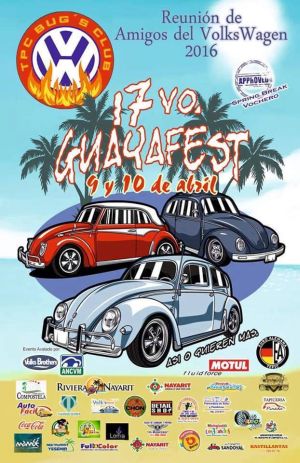 Wrapped around the gentle Bay of Jaltemba, the charming beach resort of Rincón de Guayabitos, Nayarit is a little-known gem on Mexico's Pacific Coast. Situated halfway between Puerto Vallarta and Tepic, Guayabitos sits amid jungle-covered hillsides and a lush agricultural valley.
The town itself consists of little more than a 1 1/2-mile stretch of golden sand and two parallel streets. But every year in April, the town is transformed into a playground for hundreds of Volkswagen vehicles as VW lovers from all over Mexico gather together for the annual Guayafest.
Now in its 17th year, Guayafest is one of the most traditional anchor events in Rincón de Guayabitos. This year's event, scheduled to take place April 9-10, 2016, is expecting well over 1,000 attendees, many of them Volkswagen enthusiasts looking to exhibit their vehicles in what has traditionally been a very colorful competition.
Hundreds of Volkswagens are expected to be on display, among them "combis" and the traditional "vochos" that have been jazzed up to show off and strut their stuff. They will compete in 35 categories from classic vehicles dating back to 1949 to the latest models. Awards will be given out to the first three places within the original, modified and custom categories.
Organized by TPC Bugs Club, a community formed by VW vehicles fans, this family-friendly event also features food, drink, entertainment and music. For more event information, visit their Facebook page.
This is the Riviera Nayarit's most entertaining "bug" event, and it traditionally starts with a two-hour parade through Rincón de Guayabitos on Saturday afternoon that ends at the Plaza Principal with a dance to the rhythms of a local banda.
Come out to Rincón de Guayabitos this weekend to check out the cars and enjoy all kinds of food and drink, contests, live music, and much more with other VW lovers – you'll be glad you did!
Note: Rincón de Guayabitos is located just over one hour North of Puerto Vallarta by car, or by the bus lines departing from the Bus Terminal to Guadalajara or Tepic. Click HERE to see the Google map.