Grave fears for two Australian surfers missing in Mexico
Dean Lucas and Adam Coleman feared missing after failing to check in for a reservation as friend alludes to 'distressing developments' that have yet to be confirmed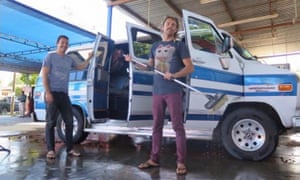 Two West Australian surfers are missing in Mexico. Dean Lucas and Adam Coleman have not been in contact with family or friends in more than a week.
A statement from their families has been released by the Department of Foreign Affairs and Trade.
"Dean and Adam were traveling in a van, departing from Topolobampa on Friday 20 November to Guadalajara but did not arrive on their scheduled date.
"The families and partners are aware the van in which they were traveling has been located by Mexican authorities and that a tragic event has occurred.
"The families hold deep fears for the safety of their sons but stress that they are still waiting for details to be confirmed."
Their friend Josie Cox posted on Facebook that the men had "solid plans and reservations" to be at Guadalajara by 21 November but never arrived.
Local authorities had officially listed the pair as missing, Cox said.
The last confirmed sighting of the men was when they got off a ferry at Topolobampo, on the Gulf of California on 20 November at 10pm.
"They are very keen and confident surfers from Australia and may have gone in search of waves in remote villages close by," Cox wrote.
"We suspect they free camped somewhere en route from Topolobampo to Guadalajara overnight. Their family and I are devastated."
Cox later updated friends on Facebook, saying there had been some "distressing developments" that had not yet been confirmed.
"We would appreciate any updates on information if you know anyone that has any, but ask that the Lucas and Coleman family have some privacy at this time," she wrote.
"Once we have confirmed news, we will update everyone ASAP. We thank everyone for their kind messages and efforts to find our boys."
The families' statement said: "Members of Dean and Adam's families will be traveling to Mexico in the coming days and working with Australian consular officials and Mexican authorities."
On Twitter, concerned friends are using #FindDeanandAdam to share images of the pair and try to obtain information from anyone who saw them recently.
The men were driving a blue and white campervan with Canadian registration plates.
The Department of Foreign Affairs confirmed it was providing consular assistance to the families.