Fourth Annual Day Of The Dead Festival in Sayulita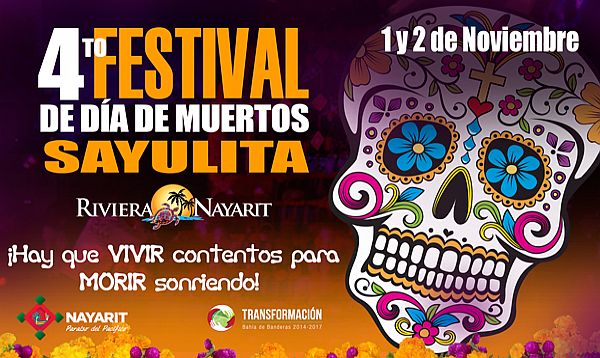 Prizes will be awarded for the best altars honoring the dead in Sayulita, along with a fine cultural and artistic program, a fiesta and the traditional nighttime walk from the plaza to the cemetery.
Sayulita, Riviera Nayarit, Mexico – The 4th Altar Contest will be celebrated in the Magic Town of Sayulita on November 1st and 2nd in the style of the Surf Capital of the Riviera Nayarit in honor of the Day of the Dead.
About 40 different altars will be raised in the village's main square with the participation of all its inhabitants: schools, retirement facilities, businesses, the ejidatarios, the escaramuzas, the surfers, etc.
There will be cash prizes for the winners of the contest: $5,000 pesos for first place, $3,000 pesos for second place and $2,000 for third place. There will also be a $1,000 peso prize for the best Catrina costume.
The altars will be raised on the main square starting on the evening of October 31st in order to be ready at 2:00 pm on November 1. The event's inauguration will begin at 6:00 pm with a Mass.
There will be a series of presentations put on by the different village schools that same evening from 7 pm through 10 pm, including dancing, theater presentations, street musicians and more. Afterwards there will be a dance for all the participants until midnight.
On November 2nd the artistic presentations will begin once again at 8 pm with the awards ceremony beginning at 10:30 pm to be followed by Norteño music for an hour.
The walk towards the cemetery begins at midnight with a Mariachi serenade. Upon their return, the banda and other music will start up again for the public to enjoy.
This celebration is possible thanks to the organization of the town of Sayulita with the support of the Groups and Events department of the Riviera Nayarit Convention and Visitors Bureau as well as the municipal and state authorities.