El Rodeo Dinner Helps Fund Spay Neuter Clinic
Tara A. Spears
The upbeat notes of local musician Scott Webb created the ambiance for the crowd of supporters who gathered for art, dinner, and dancing at El Rodeo Restaurant in Guayabitos Thursday evening. The Jaltemba Bay Animal Rescue (JBAR) invited the public to participate in an auction and festivities to raise much needed funds for its semi-annual spay/neuter clinic. Besides being a great time, the event generated $21,700 pesos from the auction and raffle, while the proceeds from food sales raised $4,083, for an evening's total of $25,783 pesos. This amount pays for 112 animal sterilizations!

Scott Webb (left) was a professional muscian in Las Vegas for many years before retiring to laid back Jaltemba Bay. He quickly became a popular entertainer in the area. The event's M.C and auctioneer, Dave, is pictured with JBAR founder, Lin Chimes. The right photo shows one of the donated raffle items and ticket seller Sheri.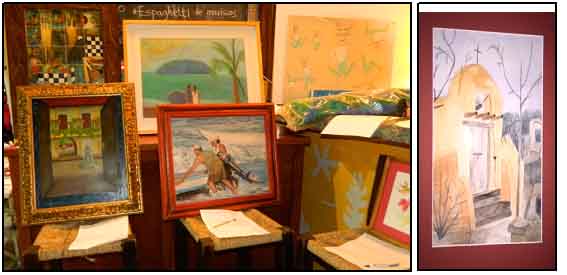 The auction included a stunning array of original art by local artists. The left back framed work is hand painted and glazed tile by Lin Chimes; center back, water color by Roberto Gil de Montes, internationally acclaimed artist; 'Cats' by 11 year old artist, Eddie Rodriguez; front row: oil by Guadalajara artist Marielena Lozano; center, acrylic by Canadian artist Dave Wallace; right, watercolor by Canadian Tosia Archer; above far right, framed water color landscape by American artist Mary Alice Ranta. Many thanks to all the caring individuals that donated the items for the auction and the 15 raffle items! 

The goal of this non-profit organization has always been "to help save as many animals as possible and prevent future animal suffering by providing free sterilization to pets in Jaltemba Bay," said director Lin Chimes. "JBAR works to help the community understand why it is important to spay and neuter animals. Many times these dogs and cats (if left unaided) can cause a health risk, as they often have parasites and many other problems as a result of roaming the streets and eating contaminated food." In addition, over the years, JBAR has also taken in strays and tried to find forever homes for these animals. 

To learn more about animals available for adoption or to make a donation, go to: www.jaltembabayanimalrescue.com or email Lin: [email protected]