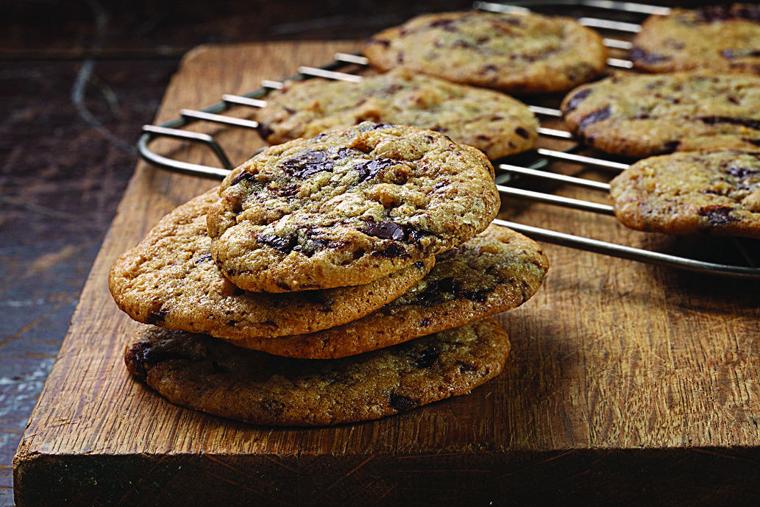 DARK CHOCOLATE CHICHARRON COOKIES
Prep time: 20 minutes
Baking time: 10–12 minutes
Makes about 32 cookies
2 cups all-purpose flour
1 teaspoon each: baking soda, salt
2 large eggs
3/4 cup each: granulated sugar, packed light brown sugar
1 teaspoon vanilla
1 cup (2 sticks) unsalted butter, melted, cooled to room temperature
7 ounces dark chocolate (at least 70 percent cacao), chopped into 1/4-inch chunks
1 cup crumbled chicharron (pork cracklings)
Note: You can find chicharron at most Mexican markets. Tellez suggests choosing thinner versions with the least amount of meat. She has also used packaged Baken-ets. To crumble chicharron, she suggests placing pieces in a plastic bag and whacking them with a meat pounder or frying pan until crumbled into small pieces. You can also use a food processor, but stop short of a fine powder.
Directions:
1. Whisk together flour, baking soda and salt in a medium bowl; set aside. In bowl of a stand mixer, beat together eggs and sugars until light, fluffy and doubled in volume, about 3 minutes. Lower speed; mix in butter and vanilla until combined.
2. Using a wooden spoon or rubber spatula, stir dry mixture into wet just until combined. Gently stir in chocolate and chicharron, being careful not to overmix. Cover dough with plastic wrap; refrigerate until firm, at least 2 hours or overnight. (Resting time allows dough to develop flavor.)
3. When ready to bake, heat oven to 350 degrees. Drop dough by mounded tablespoonfuls, about 2 inches apart, onto an ungreased baking sheet. Bake 10 to 12 minutes, or until edges start to brown and middles are still soft. Cool on baking sheet 1 minute; remove to a wire rack to cool completely.
Nutritional information per serving: 171 calories, 9 grams fat, 5 grams saturated fat, 29 milligrams cholesterol, 19 grams carbohydrates, 3 grams protein, 148 milligrams sodium, 1 gram fiber
Recipe adapted from: "Eat Mexico," by Lesley Tellez.