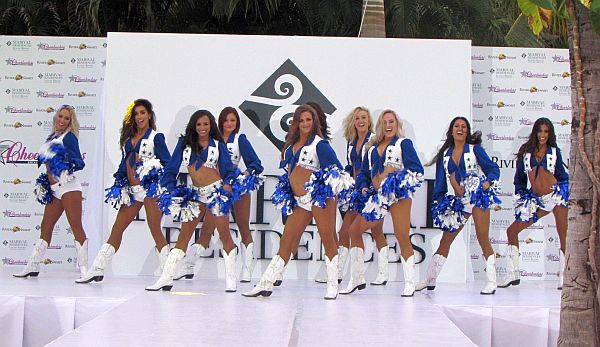 The Dallas Cowboys Cheerleaders' Fashion Show, which took place for the third time at the Marival Residences, was the crowning moment of their stay in the destination. (Photos: RivieraNayarit.com)
Dallas Cowboy Cheerleaders Promote Vallarta-Nayarit – Lo De Marcos
– The Dallas Cowboys Cheerleaders' sixth visit to Vallarta-Nayarit was a complete success, and the lasting impression it will make on the Banderas Bay region is immeasurable. This isn't just an exercise in public relations. The Riviera Nayarit will be front and center in the most popular swimsuit calendar in the world, cover to cover.
One of the most recognizable brands in the world, the Dallas Cowboys Cheerleaders have become a marketing and communication empire. The cheerleaders are some of the hardest working entertainers in show business, which was proven by their schedule during their almost two-week stay in the destination. "America's Sweethearts" traveled all around Banderas Bay and as far out as Lo de Marcos for professional photo and video shoots, autograph signings, a fashion show, and endless community appearances.
"The most important aspect of their stay is everything they do while they're here, including taking pictures at the hotels and on the beaches in the Riviera Nayarit," said Alfonso Rizzuto, President of the Marival Group.
"This year they also visited a local children's home and stayed for a few hours. This is a very important community aspect that shows the Cowboy Cheerleaders are here for more than just the publicity."
"The promotion they give the Riviera Nayarit is worth its weight in gold: for the rest of 2016 and part of 2017 they will be on different TV and radio shows talking about the calendar, which also sells thousands of copies," added Rizzuto. "They are the most-recognized cheerleaders in the United States. We have to hold more events like this one, because this is what helps Vallarta-Nayarit grow…"
Rizzuto also commented that Vallarta-Nayarit is the only destination that has received the Cheerleaders on 6 separate occasions, thanks to the relationship that has been forged over the past 16 years of hosting Dallas Cowboys' players, managers and executives for work and for play.
The Riviera Nayarit Convention and Visitors Bureau was key in choosing the locations and organizing the logistics for the photo shoots that took place in the coastal villages of Lo de Marcos, San Pancho, Sayulita, La Cruz de Huanacaxtle, Litibú and Punta Mita.
During the Fashion Show, which took place for the third time at Marival Residences, the girls took pictures with the guests and signed autographs. They also visited a children's home in Bucerías and held a dance workshop for kids at the Marival Resort, just to mention a few of the activities that the host hotel and sponsor coordinated with the Dallas Cowboys' cheerleaders in order to transform them into ambassadors of the Riviera Nayarit.
Source: Riviera Nayarit CVB