Bring on the Sun: Mexican Wildflowers Love the Heat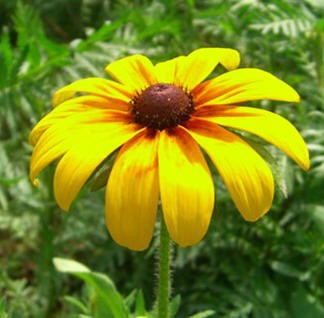 Bring on the Sun: Mexican Wildflowers Love the Heat
Tara A. Spears
Nothing is a better pick-me-up than a vase of daisy-like Rudbeckia, commonly known as black eyed Susan. No doubt about it, almost any black-eyed Susan -and there are many varieties- will make you look like a great gardener. These vivid blossoms are native to Mexico although they have been cultivated and sold worldwide since the late 1800s. The wild sunny areas around Jaltemba Bay and along highway 200 are dazzling with pops of brilliant yellow/orange/red among the lush rainy season green.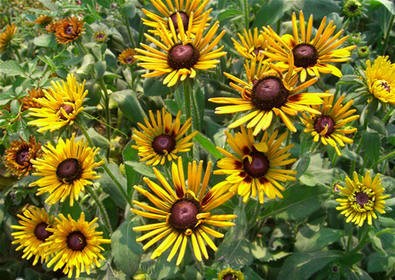 Part of the charm of black eyed Susan's appeal is that its robust plants put on a show of daisy-like blooms, especially in the summer's dog days, tolerating both heat and drought and rainy season. This is a very large family of plants that have specialized colors: 'Cherokee Sunset', a mix of yellow, orange, rust and dark red; 'Becky Cinnamon Bicolor' ('Becky' also comes in yellow, orange and a mix); or 'Prairie Sun', which has green centers. Trading on the fame of the real thing, someone named a small tropical vine that grows easily indoors the "Black-Eyed Susan Vine." Surely that was smart marketing, but that little vine with its little yellow trumpet blooms is Thunbergia alata, nowhere near the Rudbeckia genus.
Though the vine has nothing in common but flower color, there are other North American wildflowers who are close relatives. In fact, several of them were once considered Rudbeckias, but are now more correctly classified in their own genus. The now very famous medicinal, Echinacea and all its hybrids are called "Coneflowers," with Echinacea purpurea, the Purple Coneflower, as the best known. The Prairie Coneflower (yellow) and Mexican Hat (red), both named Ratibida columnaris, are closely related.
Besides its beauty, black eye Susan are ridiculously easy to grow in any warm area. Black-eyed Susan will self-sow with abandon, which can be too much of a good thing. However, to limit the number of new volunteers (a volunteer is a plant that comes uninvited- it volunteers to grow in your yard) you can cut off the seed heads before they ripen. Rudbeckias attract both birds and butterflies, which makes this plant all the more enjoyable in a home garden.
Another species that is prolific bloomer right now is the Mexican sunflower. This species has three-inch, bright red-orange flowers on a medium-green bushy plant. This native species is perienial in hot areas of Mexico, or it is recommend as an annual for northern gardeners looking for heat tolerance. T. rotundifolia averages 4 to 6 feet tall. It also has the black eyed Susan characteristics of attracting butterflies and hummingbirds as well as self-sowing.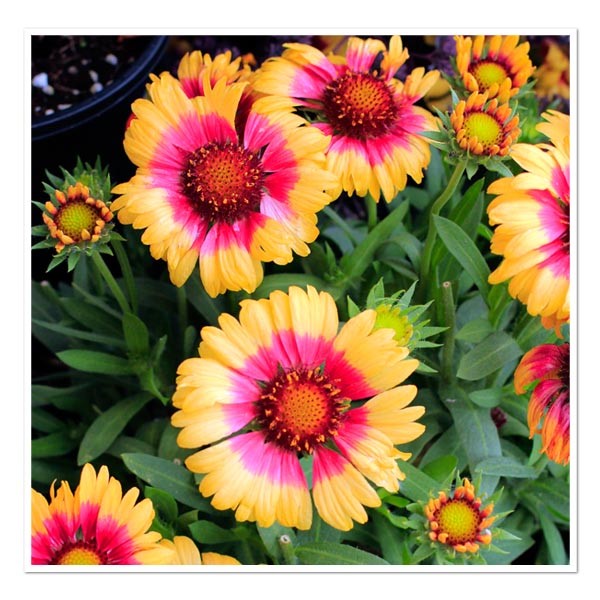 The last cousin within the Rudbeckia family that is now blooming is the Mexican Sunset Gaillardia. This striking plant regularly appears on lists of heat-tolerant plants; there are many great cultivars so you have only to choose your color. These plants thrive in full sun and well-draining, sandy soil. Both local nurseries sell potted Gaillardias so you can plop one in a pot or you garden any time.
You will always have your own private sunshine and sunset when you add any of these Mexican wildflowers to your yard or balcony!