Big Events Coming to the Riviera Nayarit in November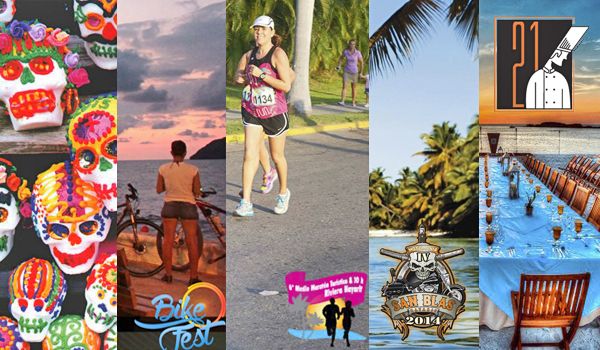 The Riviera Nayarit is gearing up for plenty of fun in November, including the Day of the Dead, the II Guayabitos Bike Fest, the XXI International Gourmet Festival and the V Motomanía San Blas.
Nuevo Vallarta, Mexico – November marks the return of "high season" to the Riviera Nayarit, and the Convention and Visitors Bureau has prepared a long list of exciting events that offer something for everyone. Here's a look at what's coming up:
Day of the Dead Celebration (Nov. 1-2)
All of the seaside villages celebrate the traditional Day of the Dead with altars in honor of those who have passed as well as verbenas for the townspeople. Sayulita also holds a yearly altar contest as part of the festivities.
II Rincón de Guayabitos Bike Fest (Nov. 6-8)
There are several activities on tap for bike lovers during this sporting event, which includes a race for both mountain bikers as well as road riders, not to mention an exhibition of BMX acrobats and the traditional urban night rides. There will be three days of family activities on the beach at Rincón de Guayabitos, plus a photo and antique bike expo, music and a verbena. For more information visit BikeFestGuayabitos.com.
XXI International Festival Gourmet (Nov. 16-22)
The Puerto Vallarta-Riviera Nayarit-Tepic International Gourmet Festival is one of the most important culinary events in the country. This year it celebrates its 21st anniversary in the presence of some of the best chefs on a global level and the participation of over 30 restaurants. There will be cooking demos, workshops, chats, theme nights and plenty more activities to please the palate. Want to know more? Visit FestivalGourmet.com.
7th Riviera Nayarit Touristic Half Marathon and 10K (Nov. 21)
The Half Marathon and 10K is of the key events in the Destination as it promotes sports, tourism and a focus on family. Nuevo Vallarta will host the event and it's expected to be even bigger this year, as has been the case every year since it began. Do you want to go for a run in Mexico's hottest beach destination? Visit MedioMaratonRivieraNayarit.com.
V Motomanía San Blas (Nov. 20-22)
Over one thousand motorcycles will converge on the Historic Port of San Blas to celebrate this very special event where, among other things, they will be raffling a motorcycle, plus there will be lots of dancing, exhibits, races and fun! Learn more on their Facebook page.
And that's only some of the exciting things that are happening in the Riviera Nayarit this winter! To learn about more events and festivals, see the event calendar on RivieraNayarit.com.