Puerto Vallarta and Riviera Nayarit American Legion Hosts Two Fundraisers
Dennis Rike – BanderasNews.com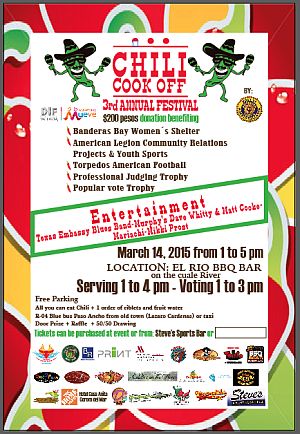 Puerto Vallarta, Mexico – One of the main ways that the American Legion Post 14 of Puerto Vallarta contributes to the community is through various fund raising efforts. Another is to provide necessary resources and manpower to improve various institutions in the Banderas Bay area.
Next month, Post 14 members will be hosting two fund raisers: the 3rd Annual Chili Cook-Off on March 14th at the El Rio BBQ Bar and a Pre- St. Patrick's Day event at Murphy's Irish Pub on the Malecón on March 16, 2015.
The First Fundraiser
The Chili Cook-Off will feature more than 19 recipes from a broad range of sponsors, including restaurants and individuals. This always-popular event will be held on Saturday, March 14th from 1:00 pm to 5:00 pm at El Rio BBQ Bar, alongside the Cuale River in Paso Ancho.
Doors will open at 1 pm. Mariachis will perform from 12:30 to 2:00, followed by Mikki Prost, Murphy's Dave Whitty & Matt Cooke, and Nacho Daddy's Texas Embassy Blues Band wrapping up the entertainment.
You'll also enjoy "all you can eat" chili plus one order of riblets and fruit water for only $200 pesos per person. El Rio's regular menu items are also available for purchase. Tickets can be purchased at the door or in advance from any of the event's sponsors, including Post 14 headquarters at Steve's Sports Bar on Basilio Badillo. You won't want to miss this one!
Charities benefiting from the cook-off include Banderas Bay Women's Shelter, Youth Sports, Torpedos American Football (Pop Warner 6 to 17), the DIF New Life Home for Boys, and American Legion Community Relations Projects.
To become a sponsor and a participant in the cook-off, you must agree to provide at least 5 gallons of your special chili and bring your own heating unit. There will be two classes of judging. Popularity vote by the attendees to determine 1st, 2nd and 3rd place trophies, and also professional judging to determine a "Grand Chef's Prize" trophy. Call Dennis Rike at 322-138-8891 or email dennis2rike(at)hotmail.com to sign up as a participant or to get additional information regarding the event.
El Rio BBQ Bar is located alongside the Cuale River in Paso Ancho. If coming from the south or El Centro, turn right off the Libramiento just past the bridge and before the new large tunnel. If coming from the north, turn left at the river road past the large tunnel and before the bridge. If traveling by bus, you should take the R-04 Blue bus from Old Town (Lazaro Cardenas) to Paso Ancho. Free parking will be available. Click HERE for map.
The Second Fundraiser
On Monday, March 16th Murphy's Irish Pub will host a Pre- St. Patrick's Fundraiser from 12 noon to 5:00 pm, with proceeds divided between the American Legion and Navy League of Vallarta. You'll enjoy live music from 1:00-4:30 pm, a raffle and a 50/50 drawing. Tickets cost $200 pesos per person and include an Irish Buffet of Corned Beef/Cabbage, Shepherd's Pie, Guinness Stew, Fish & Chips, Salad, Mashed Potatoes and Dessert and two drink tickets for Well Drinks, Wine and Mexican Beer.
In addition to contributing to the community through various fundraising efforts, the American Legion Post 14 is also working through the Jay Sadler Project, the Recreation Director of the municipality, the Navy League of Vallarta and DIF to provide necessary resources and manpower to improve various institutions in the Banderas Bay area.Projects Completed 2013/14
• Proyecto Pitillal Busca un Amigo Day Care Center – Building repairs, painting, raised wall and installed a sidewalk • School for the Deaf – Lighting, Fans, Window Protection • Boca de Tomatlan Jr. Sr. High School – Water Supply & Repairs to Boys and Girls Bathrooms • Santa Barbara Rehabilitation Clinic – Tile roof installation and Painting • DIVAC Association for the Handicap* – Painting • Playgrounds San Vicente del Mar and Guamuchil* – Restoration/repairs • La Aurora Recreational Park painting repairs and adopted for total upkeep and maintenance • Caloso Plaza – painting and repairs to the playground • Children's Cancer Screening Center* – Painting, roof repairs, window replacement and playground installed • DIF Senior Home and New Life Home for boys in Coapinole* – painting, repairs and electrical installation • School for the Deaf – building addition in partnership with Punta Mita Foundation and Club Rotario aka Charlie Brown – $45,000 pesos awarded, construction to start March 1, 2015 • Torpedos Football Americano Fundraising – maintenance on the field and donating toward scholarship • Raise funds for the Banderas Bay Women's Shelter for battered women in San Pancho • Installed water and electrical service for a youth community center in San Ignacio.
*In partnership with the Vallarta Navy League
If you are going to be in Puerto Vallarta and would like to help us help the local community, please complete this short volunteer sign-up. Thank you and we hope to see you soon.
The American Legion's Community Relations (COMREL) program provides necessary resources to improve various charities and non-profit institutions in the Banderas Bay area. General Meetings are held every third Tuesday Steve's Sports Bar which is located at 286 Basilio Badillo, in Old Town Vallarta. Visit AmericanLegion14.org for more info and executive meeting locations.