Cancer de Mama Clinic 2016: Caring Sisterhood
                     Tara A. Spears
Under sunny skies the mood at the Cancer de Mama Clinic 2016 was upbeat, underscored with hope and compassion as the volunteers in cheerful pink shared smiles and hugs with the hundreds of women from throughout Nayarit. Many of the women traveled for hours by bus to receive assistance at the annual breast cancer clinic.  The statistics are impressive: 559 breast cancer survivors participated in the three day clinic, with approximately 45% of the women with hair loss due to chemo. There was such a large demand for the head co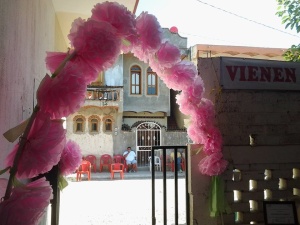 verings that the 'Hat Shack' ran out of scarves and hats! Thanks to the generous Canadian companies that donated high quality prosthetics and specialty bras so that this year each woman received a new one plus gently used bras and tit bits to wear alternately.
The new location, at the La Penita Senior Center, earned top rating from both clients and volunteers. Not only was the clinic layout smaller and condensed, it is all one level and therefore more assessable and easier to navigate for the very ill. I saw many more wheelchair clients in addition to many with canes. A local school teacher donated charming pink paper flowers to personalize the space. Just entering through the cute arch set the welcoming tone of the entire clinic! The Cancer de Mama Executive Committee is so talented at organization that even with a new venue and record number of participants, the clinic operated flawlessly.
As a volunteer worker, this more intimate physical space made it easier to interact with the clients. I was delighted to see that the breast cancer survivors clearly felt comfortable with the foreigners, asking to have a picture taken with the volunteers. This indicates to me that the clinic has reached a new level of effectiveness: a lowering of the boundary delineating 'us/them'. Now we are all the same sisterhood!  Cancer de Mama clinic has developed a high level of trust and acceptance that transcends the language barrier . "It's a two way street now," observed a volunteer. "Before, they (the women clients) were shy and uncertain. Now they kid around and reach out to us just like real sisters do!" What is a truly horrible physical illness has united women of all shapes, sizes, colors and background- with all of us better people for the experience.
 The Mexican women reap another benefit from attending the La Penita Clinic that goes beyond receiving the specialized bras. She can see that she is not fighting alone and that there are steps that can be taken to overcome the illness, such as chemo therapy.  When I first volunteered in 2008 there were significantly less women taking chemo. It would appear that the far-reaching effect of this volunteer clinic is to draw positive attention to addressing breast cancer in Nayarit. Just the networking among the individual women, encouraging each other to get further treatment is huge! Thank you Jackie! Thank you clinic committee for making such a difference!
One of the national volunteers brought her son, Daniel, along to sing for the ladies as they waited for their fitting and ate lunch. What poise and talent for 8 years old!
To all of my sisters who give time and hugs, see you next year-vamanos con dios!