The Jungle is Jumpin' on March 11 at 5:30 pm.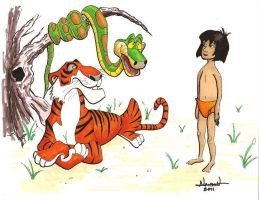 Our Jungle Book 'Novel Experience' will feature fine food, great entertainment, and an incredible venue. In keeping with the setting of Rudyard Kipling's Jungle Book, guest chef John Spry will treat us to a multi-course East Indian menu that will please us all. The incredible Scott Webb will perform courtesy of Re/Max Jaltemba Bay Realty. And you'll be able to relax and enjoy the peaceful ambience of the home of Del and Sue Moss, in Rincon de Guayabitos.
Books on Wheels is in the process of restructuring, so the benefactor of this event has been changed to Jaltemba Bay Rotary Club ALL SCHOOLS PROJECT. It's hard to believe that there are primary schools in our area that have toilets that don't work, or non-functioning sinks sitting on the ground, or holes in the walls where windows should be, or roofs that leak during rainy season, or …. the list goes on and on. Who can focus on learning under conditions like these? The Jaltemba Bay Rotary Club is working with state education officials to identify and prioritize needy schools. They will then provide funding to make the necessary improvements and work with parent committees who will get the job done.  The aim is to ensure that ALL SCHOOLS meet certain basic standards. Seems like a very worthy endeavour that will benefit many, and help future Einstein's (and others) get a solid start to their schooling.
We've been besieged with inquiries about this event, so have decided to send out the information NOW, rather than after the Wild West event on February 17!
Tickets are available for a minimum donation of $400 pesos from one of these outlets:
Chasite Cafe
Los Amigos de Jaltemba booth at the La Penita market
Rick Helberg – Re/Max Jaltemba Bay Realty at local markets
Jeanie Mintzmyer – Hidden Paradise Real Estate at local markets
or by emailing us: las3amigas@yahoo.ca
(For your convenience, you can also pick up tickets for the Wild West event at the same time.)
This is sure to be a 'one-of-a-kind evening' that you won't want to miss. Tickets are very limited, so we suggest you act fast.