321 Animals Received Free Medical Care at JBAR Clinic
Tara A. Spears
Jaltemba Bay, Nayarit is a wonderful vacation destination but it is an even better community to live in. It is a community where seasonal residents work elbow to elbow with their national neighbors to help improve this seaside village. This week the Jaltemba Bay Animal Rescue group held its semi-annual free spay-neuter clinic to aid the area's four-legged residents. This three and a half day long clinic provided medical care to a whopping 321 animals! In addition, the clinic had 23 animals that were adopted. As you can see from the photos, the animals receive love and quality care from more than 100 volunteers. It is long hours of back aching work, but the reward of knowing these animals will have a healthier life keeps the volunteers smiling.

 A sincere round of applause goes to the excellent Canadian veterinarians led by Dr. Malcolm Macartney. Other volunteering vets are: Ian Burniston, Ann Signorella, (from MacKenzie Veterinary Services in Victoria,) Vickie Addie (from Saseenos Veterinary Services in Sooke), Laura Graveling (from South Burnaby Veterinary Hospital), and Alison Lord (from Portland, Oregon.) The very dedicated Mexican vets are Dr. Poly Lopez, Dr. Anthony Garcia Carrillol, and our La Penita vet: Dr. Aldo Barba.  

  One needs to see the stacked up kennels with patients in them in order to have a perspective of how very many animals were treated each day. The spay/neuter clinic is a testimony to efficiency and organization to transform a private home- thanks Sue and Dell Moss- into a functioning clinic. It also entails a large amount of donated cash to provide the medicine, anesthetics, thermometers, etc. In addition to the surgery, each animal is treated for fleas and ticks. Some pets are brought for diagnosis of other ailments. It is so rewarding that the residents are embracing the efforts of JBAR to control unwanted litters and thereby give a better quality of life to their pet. It also makes for a healthier community.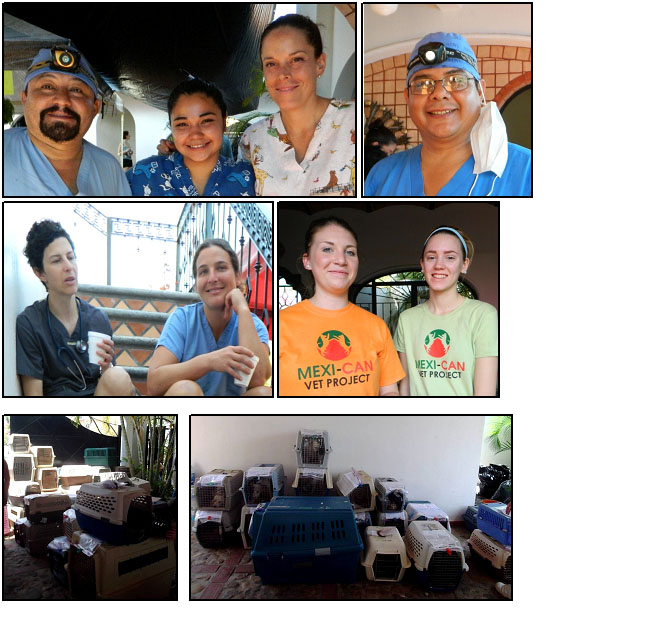 The camaraderie amongst the volunteers is strong. It was exciting to see familiar faces, people who have volunteered at previous clinics. It was even more exciting to make new friends, as due to the lateness of this spring's clinic, a lot of loyal supporters had already left for NOTB so the majority of volunteers were first timers. Having young local people join in is a positive impact of the JBAR outreach.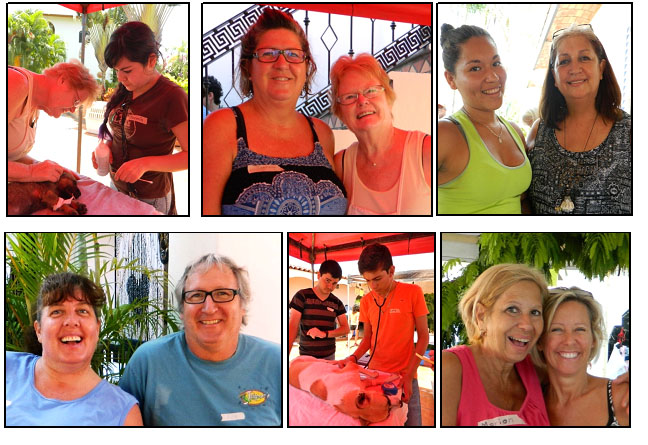 Many, many thanks go to everyone that worked at the clinic this week; thanks to all who donated food for the volunteers or items for the animals. It takes hundreds of individuals to continue the efforts of the Jaltemba Bay Animal Rescue throughout the year. The learn more about this organization, to adopt a pet,or to donate, go to www.jaltembabayanimalrescue.com or contact director Lin Chimes: [email protected]
Dog and cat clients checking in; after surgery pics follow.